Death Valley, Valley of Fire, Grand Canyon, Sedona, San Diego, Big Sur and the Redwoods
The M850 GC is really a fun car. It's my 4th M or M"ish" car in the last 60 months.
My fondness of reading European Delivery threads led me to do a few travel threads of my own over on the F90 forum. Thought I'd drop a new one here, since I'm now an 8er owner. My goal was to be an M8er, but there's just something about the M850 that suits my driving requirements better. No regrets. Yet.
My last four BMWs were acquired with serious road trips in mind. The M550, M5, M5C and now the M850 have all exceeded my expectations. The pre-LCI M550 was fast and comfortable. The M5s, releasing un-relenting holy hell on demand, were spectacular on the winding 2-lane highways. The M8 would be equally gnarly, but the M850 – while taking it down a notch – might be the better long-haul crusier. We'll see.
As a traveller/amatuer photographer I am drawn to 1) Spectacular scenery, 2) Pictures of my cars, 3) Pictures of my cars in spectacular scenery, 4) Small town Main Streets, 5) Interesting buildings, 6) Business signage (especially old neon signs) and 7) Anything colorful, retro or kitchy. It's a vast canvas. With luck, several of the criteria can sometimes be combined into one photo.
I have three other travel threads you might be interested in if you like this one.
From 2019: 3,500 miles thru Utah in an M5
https://f90.bimmerpost.com/forums/sh….php?t=1784425
From 2021: 2,000 miles around Wallowa Lake area – M5C
https://f90.bimmerpost.com/forums/sh….php?t=1828059
From 2021: 4,200 miles: Devils Tower, Mt Rushmore, Rockies – M5C
https://f90.bimmerpost.com/forums/sh….php?t=1865068
They were all fortunate enough to eventually make it the main page.
The Basic Route – Trip was Apr 20 to May 4, 2022. Route is clockwise from Portland.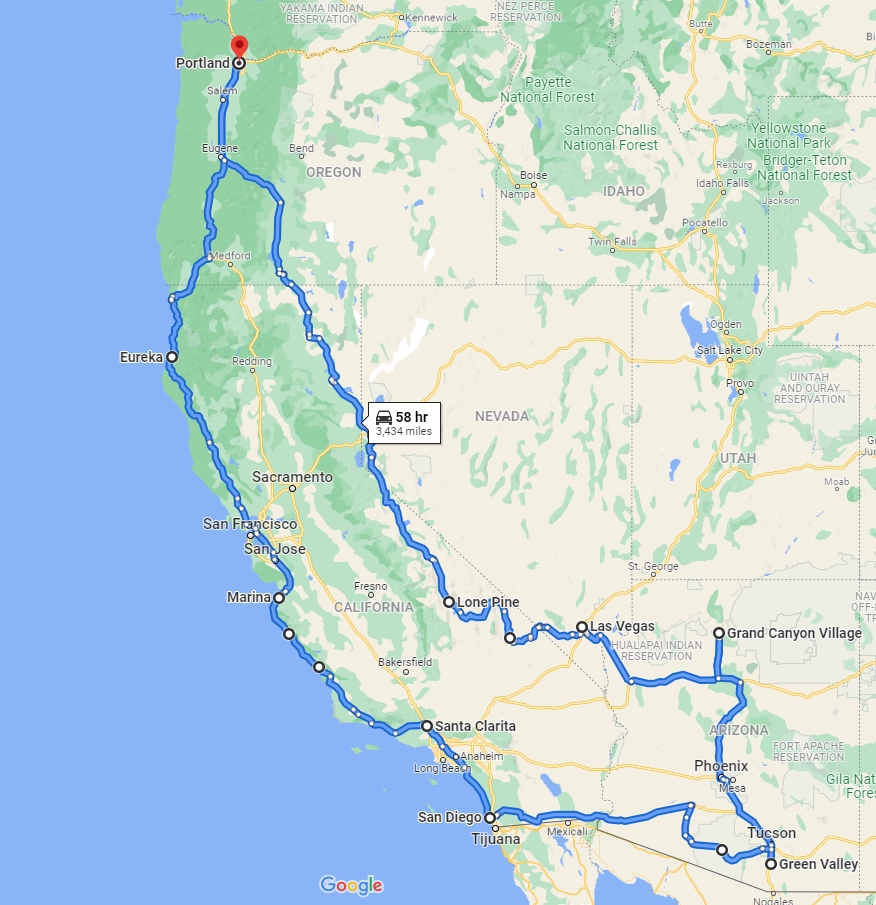 A couple teasers from later in the trip:
Modoc Forest – South of Tulelake, CA – Day 2

Down US 395 – South of Bishop, CA – Day 3

Death Valley – Day 3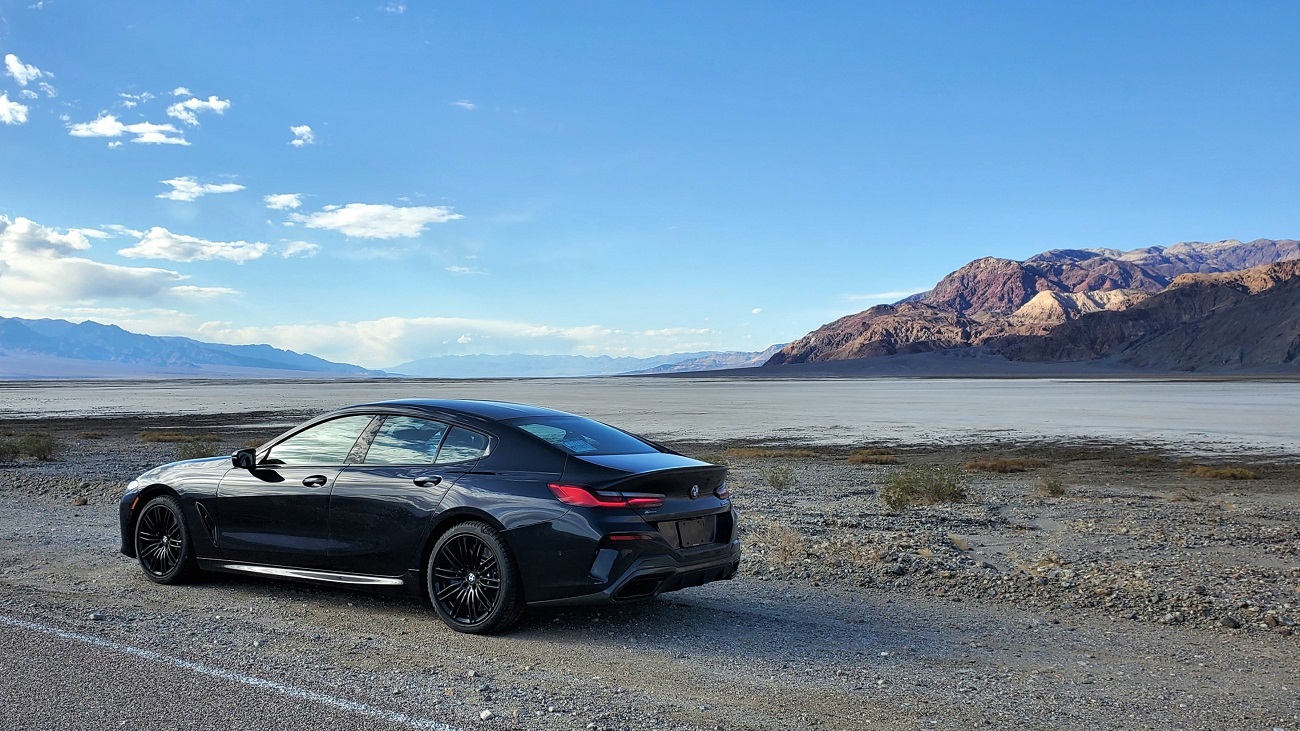 Death Valley – Day 3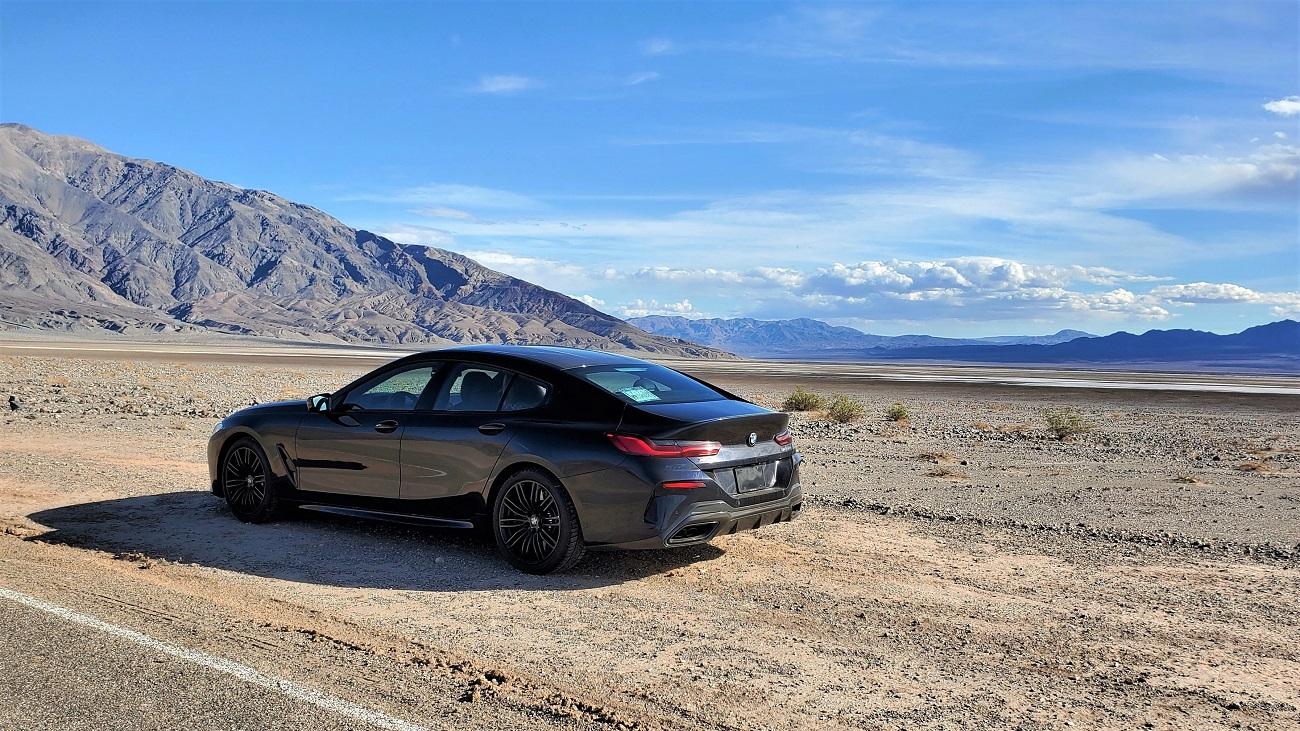 Hwy 1 – Big Sur, CA – Day 13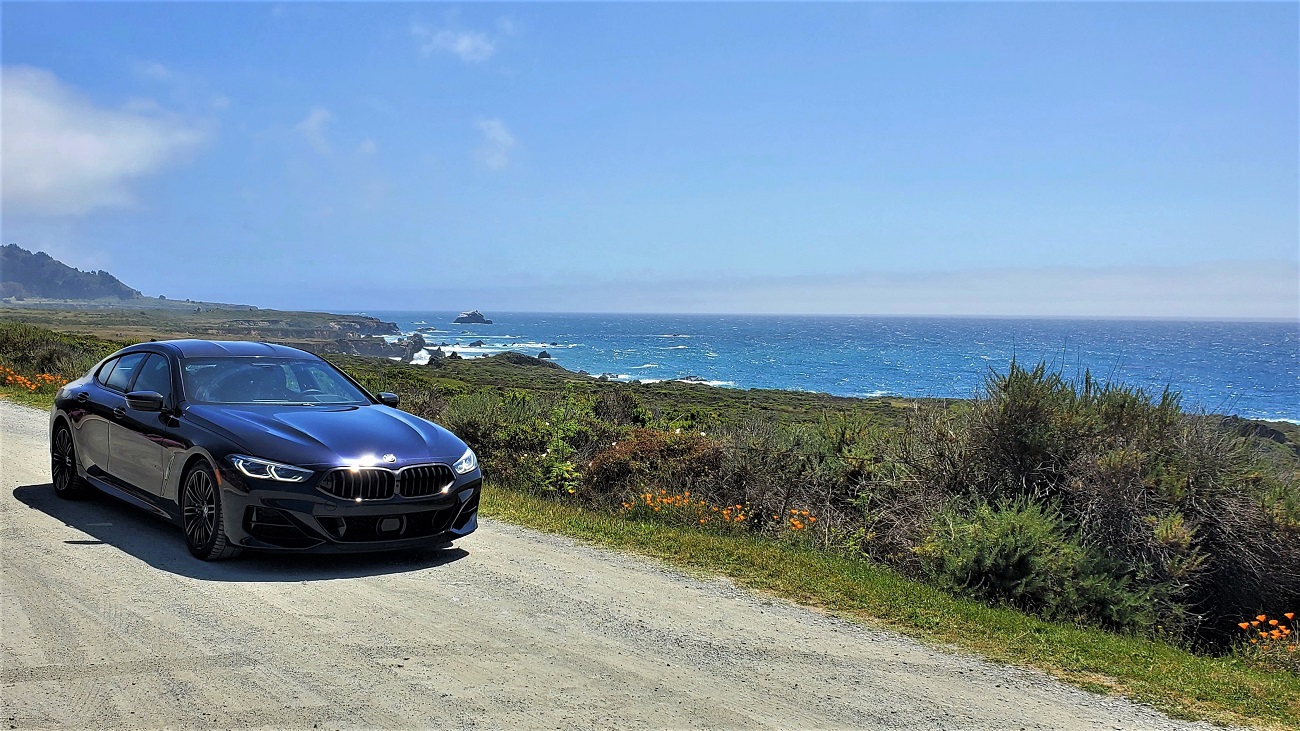 Our goal was San Diego by Day 10 – my wife's niece was getting married there at the end of the month. We were virtually going to do this trip counter-clockwise in March 2020, but pulled the plug just as Covid began to ramp up. So, we dusted off those plans, modified a few things here and there, made all the reservations in January and then waited for launch day. Couldn't wait to get the M5C back on the road. Took the winter tires off in early April. Then a freak snowstorm blew through Oregon and Northern California a week before we were to leave.
Outside my front door…….Seriously??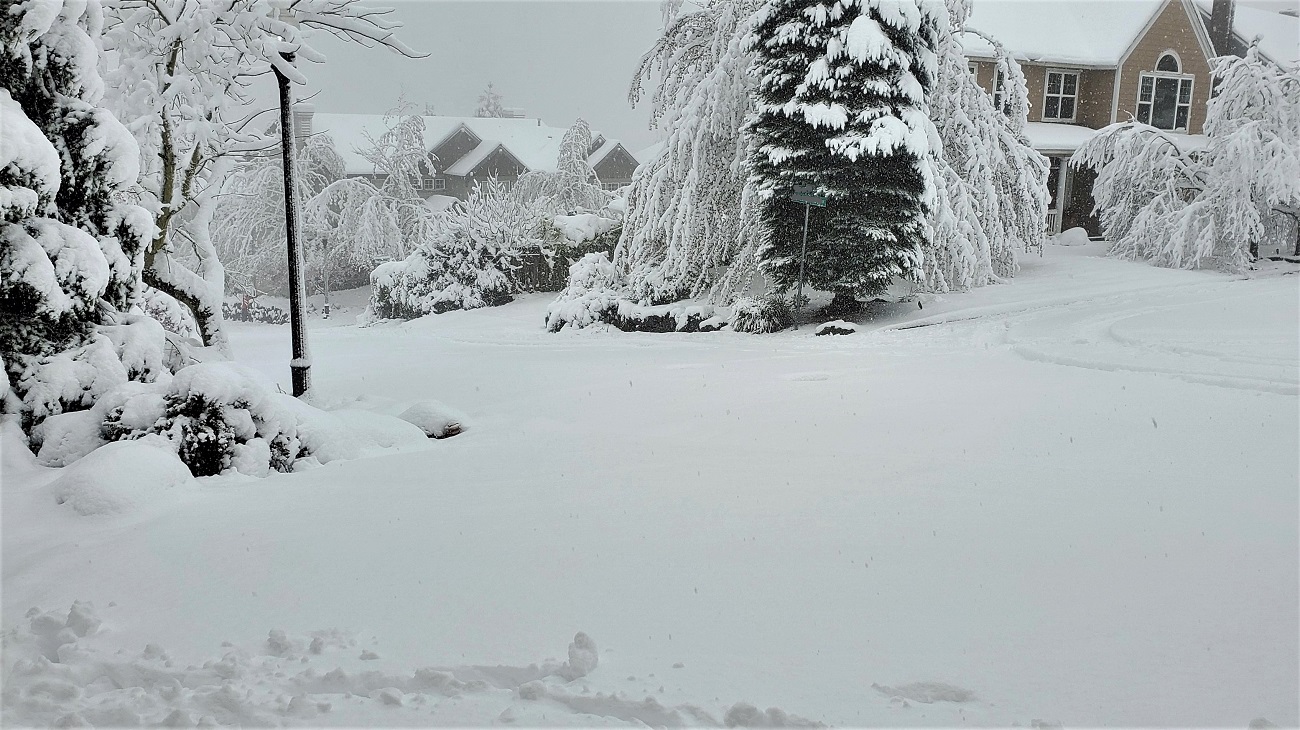 BBQ anyone?

The cold weather lingered. I had several options to get out of Oregon – all required travel through snowy mountain passes now. My winters are Michelin Alpin 5s, a good cold weather tire, but not exactly snow tires. I didn't want to go down the coast and add several hundred miles. I'd still have to get over the Sierras and Donner pass is 7,000 feet – and actually ended up being closed the day I would have needed it. I didn't want to go down to Bakersfield and around the Sierras to get over to Death Valley. I wasn't going to miss driving 395 south of Reno. What to do?
I know! Along with scurrying around on final preparations, finishing up tax stuff, etc. – why not take a peek at my dealer's website – just for fun, of course – a couple of days before we leave? And, there she was – a pretty Carbon Black M850GC, almost the exact spec I could live with. I'd been going 'round and 'round with where I'd be at the end of my M5 lease in Dec 2023: way over miles, supply chain problems, much higher lease and finance rates – ugh. I fired off an email late at night on Friday to my CA, test drove it Saturday and decided it would work for me. Plenty of power, less harsh around town – and an 8 Series. My original thought was to take the M5 (with winters back on) to San Diego and trade it in when I came back in 2 weeks. One last hurrah with the great beast. But, the dealership would rather have the M5 now, with 22,500 miles – instead of 2 weeks later with 27,000 miles. I get their point.
Luckily, I had a square set of SottoZero3 snow tires mounted from my old M550 days. If they fit, I'd put them on the M850 and off we'd go. They did. The deal came together, financing was good and I bought this one. And the miles are now what the miles are gonna be. It was mine 40 hours before we left. I was a little leary taking a brand new car so far from home right away, but I guess that's what European delivery was all about, so…………….Giddyup!
I took almost 1,000 pictures – I could have taken more. By now my wife has to be seriously wondering about me. Always stopping the car: "Ooh! Ooh! Look at that! I gotta get that!" Jockeying the car into position for putting the car in the scene. Those are always fun. Anyway, there's 133 pictures with a G16 in them. It takes an enormous amount of time to cull the best ones, organize them and then edit and crop away until they look just right. I loved every minute – I got to re-live it all again. Hope you enjoy.
There are also 18 maps and 250 pictures of scenery, other sites and small town Main Streets. Due to uploading limitations I decided to just give each day it's own post. So, 15 in all. But, six are really short. Day 3 in Death Valley, Day 4 at Grand Canyon and Day 13 at Big Sur were stupendous. Death Valley Days on Day 3 is stooopid long – just lots of cars and desert scenes. Similar subjects, different views. I'm not a fan of deserts, per se. But, and I can't explain why, I liked it a lot.
Some basic stats on the trip:
Pre-trip ownership: 40 hours
Mileage at start of trip 201
Miles driven 4,220
Days on the road 15
Average miles/day 325 (2 days off)
Long day 476 (Day 2)
Short day 5 (Day 8)
Avg. Miles/gallon 23.9
It will probably take the rest of the day to get all the posts loaded. Hopefully it will go smoothly, but a project of this size can get tricky. Your patience is appreciated.
---


Last edited by snowbimmer; 05-31-2022 at

01:05 PM

..