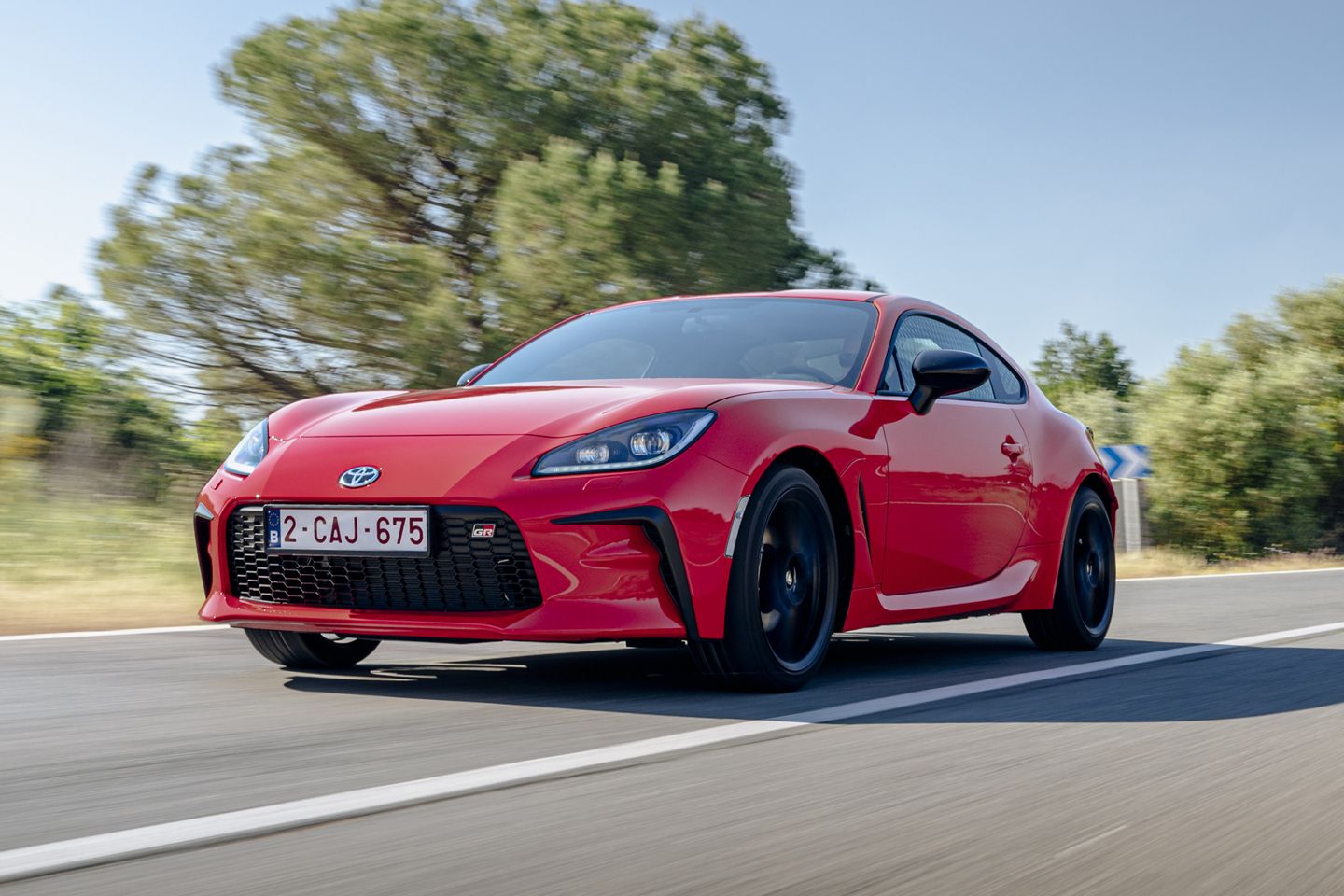 Toyota really knows how to rub it in. It sold out its UK allocation of the new GR86 in a nanosecond. Yet it still earns a full product launch after the fact. There are legitimate reasons for that, of course – this is a Europe-wide gig, and not every country on the continent has run out of cars to sell – but if you're inclined to think that we've been invited to admire the stable door long after the horse has left the building, then it's hard to argue. Especially since we drove the car as a 'prototype' at the end of last year – a distinction that was more to do with a pre-production body wrap than anything left mechanically unfinished. 
But it's equally difficult to deny Toyota its moment in the sun. This is a company, after all, that not so long ago had to make a fuss out of facelifting the Verso or launching the Urban Cruiser. It has endured the open-ended ghastliness of a well-made, well-intentioned and emotionally bankrupt product line. Well, no longer. Signalling its intentions with dramatic success in international motorsport, Toyota has surged back into enthusiast-pleasing prominence. It has remade the Supra. It turned a very modest supermini into a turbocharged riot. Its newfound passion – marshalled from the very top of the company – is infectious. And, if you're prepared to forgive it for not building enough cars, wonderfully inclusive. 
Obviously the GR86 is indicative of all this. Whether you liked its predecessor or not, the GT86 was one of the original cars to burst through Toyota's decade-old wall of boredom. The manufacturer hadn't even stopped building the impossibly exotic (and brazenly out-there) Lexus LFA when it showed the world what an affordable, RWD coupe could look like – and drive like if you were prepared to embrace its quixotic take on output and speed and very progressive handling. It was not universally adored, and certainly it was not big selling. Yet it was evidence of an intriguing new direction, and proved beyond all doubt that Toyota was prepared to plough its own furrow when it came to drivers' cars.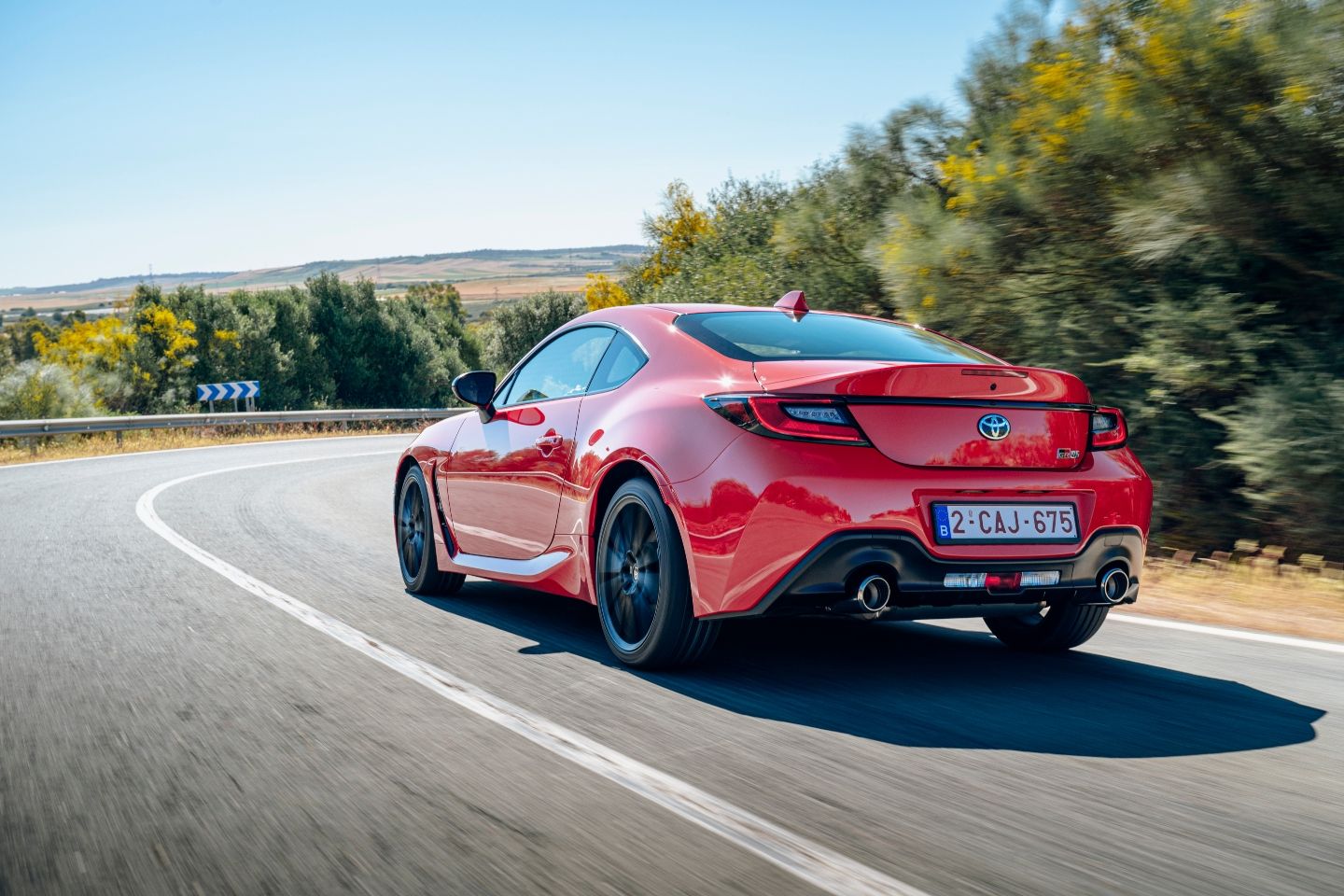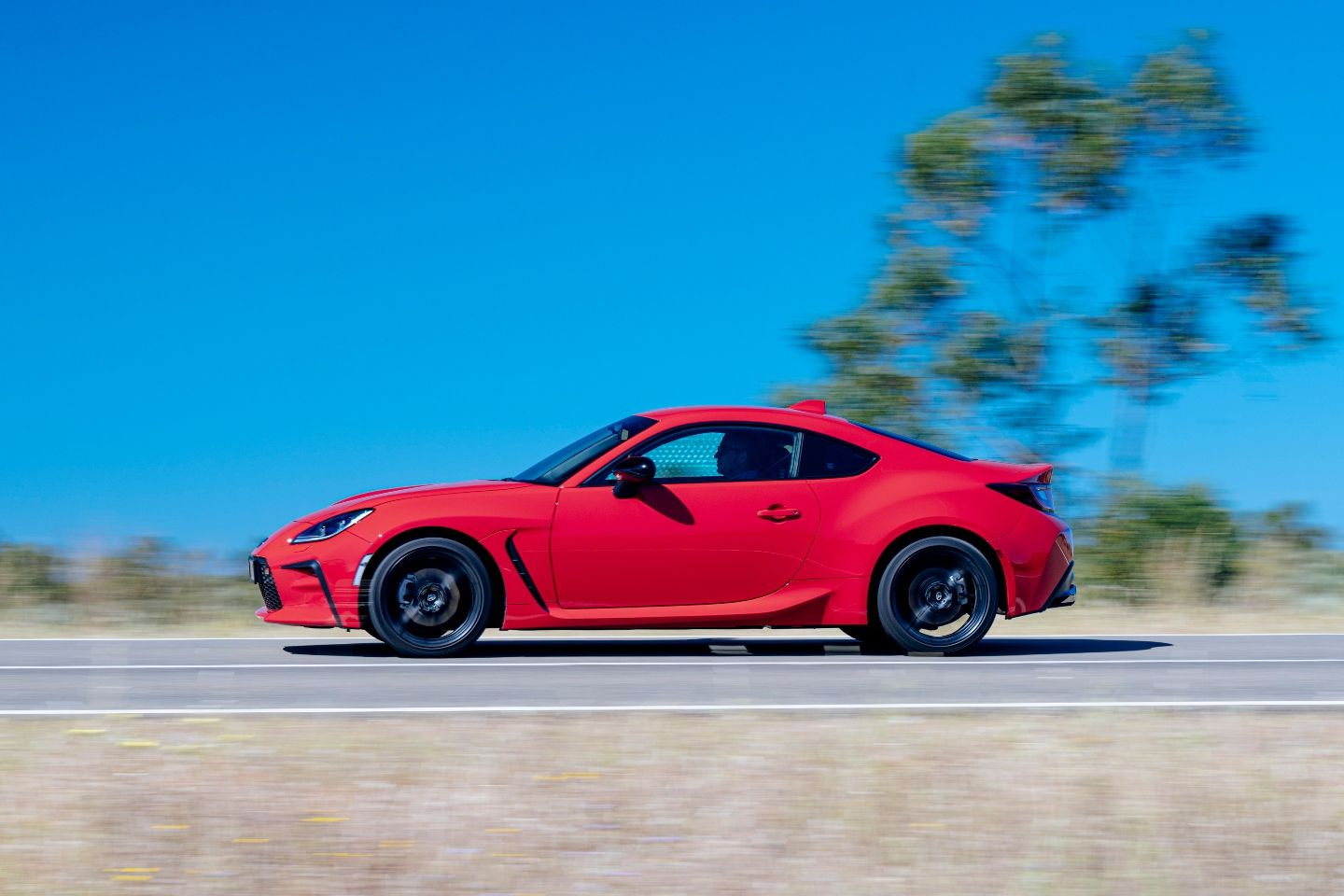 A shame then (the double whammy, really) that the manufacturer has not only underestimated the demand for its replacement, but also taken 10 years to get to this point in the first place. Which is especially galling when you consider that the various issues with the GT86 (assuming you wish to label them as such) were established almost from the outset: i.e. it did not go quickly enough to tempt people from hot hatches, not at an apex and certainly not in a straight line. And while that missed the point of what Toyota was trying to achieve, to many people it seemed like the firm had willingly brought a butter knife to a sword fight; most chose the latter without a second thought. 
Accordingly, the manufacturer has considered their misgivings at length. The GR86, as you'll know by now, is a typically thorough riposte. Matt dealt with the details at length last year, so we won't dwell on them here except to say that the new model is very marginally lower, lighter, wider, and, architecturally speaking, considerably stiffer than the car it replaces. And most significantly, of course, it features a newly developed 2.4-litre naturally aspirated four-cylinder engine – one that summons up 234hp and 184lb ft of torque where previously there was only 200hp and 151lb ft. 
The presence of the bored-out boxer unit won't be the first thing you notice though. With the wrap gone PH can confirm that the GR86 is comfortably better looking in the flesh than the GT86 ever was. Given the obvious similarities, you might not expect a noticeable advantage (and these things are relative; not to mention subjective) but Toyota's far-reaching nip and tuck manages the tricky job of supplying a thicker-set coupe without diluting the crispness of its underlying design. In fact, the GR86 has been made to look sharper and a whole lot more purposeful than its curiously innocuous predecessor ever did.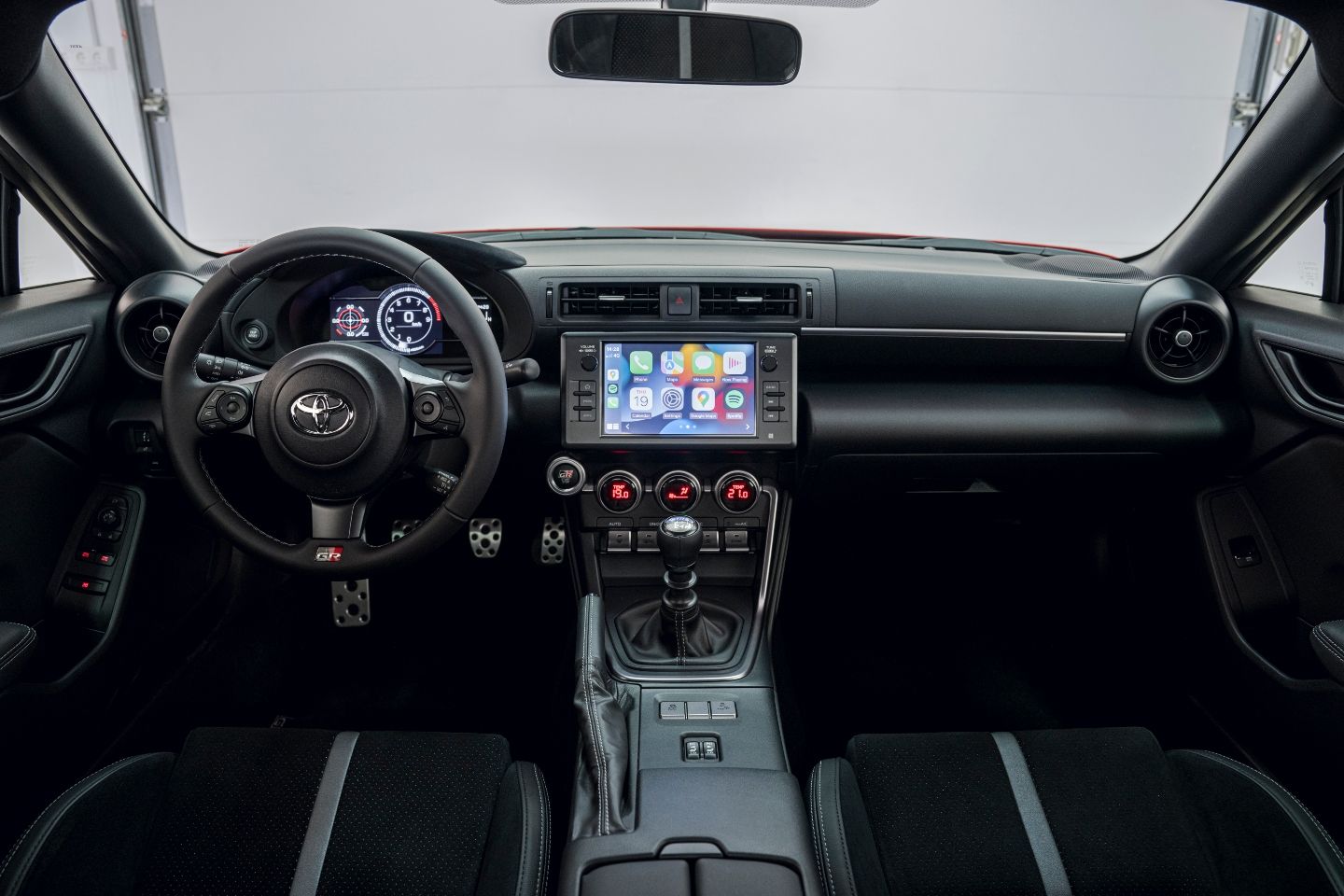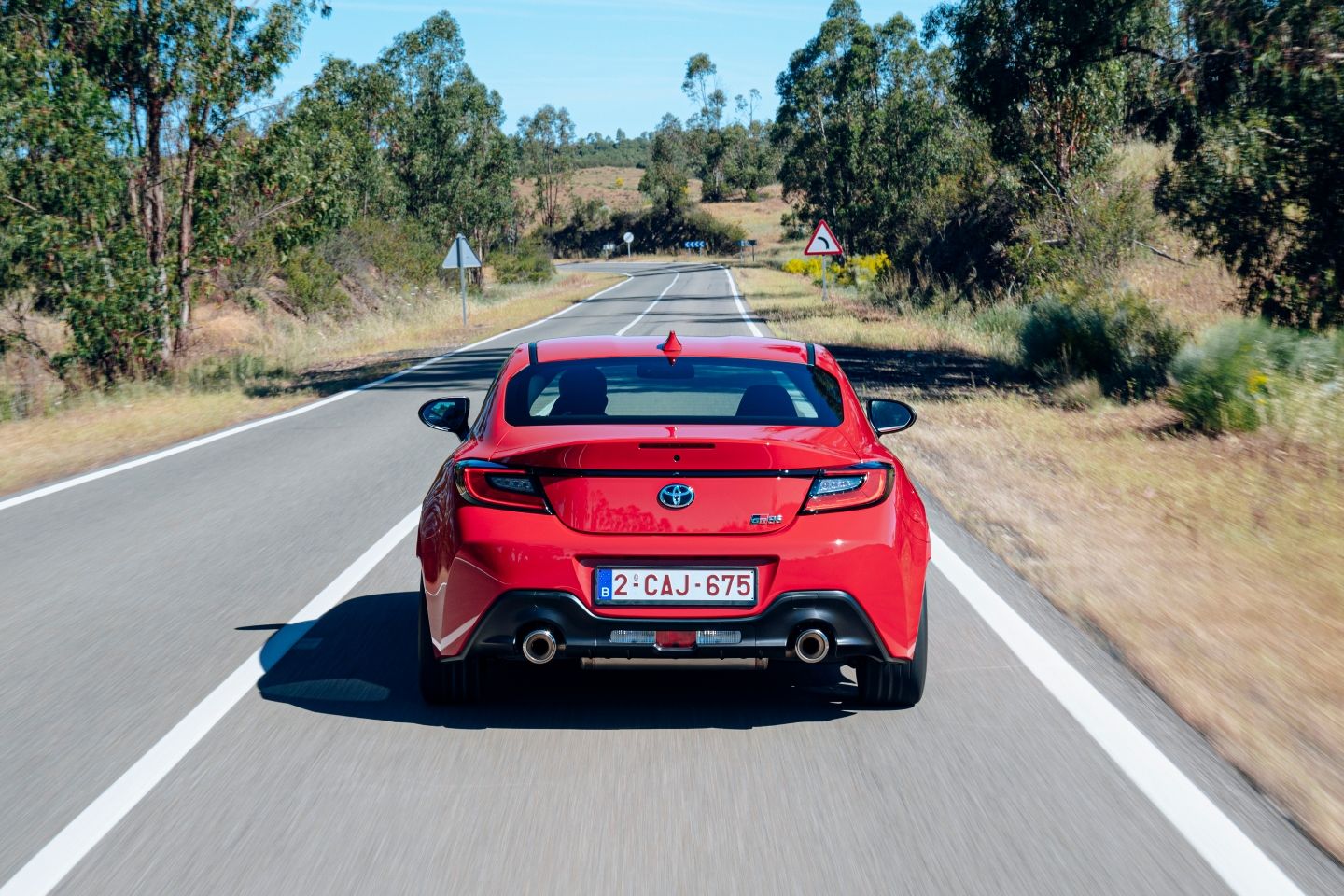 It is to the new car's advantage that it is 10mm lower, although it'll be highly sensitive posterior that claims to register the fractional lowering of the model's hip point. Toyota made much of the GT86's ground-hugging centre of gravity (an oft-given reason for persevering with the boxer); the GR hugs the dirt even tighter, but not so you'd notice. It's possible that the salient features of the interior overhaul might pass you by, too. Much about it is tweaked to the newer car's advantage – and certainly it feels classier – but the hard points seem mostly carried over, which ultimately makes for a familiar ambience: task-focused, cost-effective and ergonomically spot-on. 
All of which brings you to the moment of truth. For which you are not made to wait. The changes to the engine are easily fundamental enough for it to evince a different character from the first moment. Brass tacks, the GT86 couldn't hide the amenability shortfall inherent in a NA unit that didn't give-up its modest peak torque figure till 6,600rpm; with 33lb ft more available from 3,700rpm, the GR is plainly more tractable. Not in a way that is going to challenge the abrupt real-world advantages of a 300hp turbocharged hot hatch – but Toyota has achieved the 'stress-free' acceleration it was apparently aiming for. The car feels like a much more elastic, usable prospect, and therefore a better one. 
No less importantly, as Matt B suggested when he drove the car, the ignominy of prospective traffic light defeat versus oil-burning family saloons has also been allayed. Perhaps there's no great revelation here – the engine's underlying character is familiar, and the gear ratios the same – but the GR feels good for its 34hp upgrade, and with the torque dip flattened and 7,000rpm to aim for, the new model seems better able to fulfil its sports car brief. Granted, a Porsche Cayman or Alpine A110 stand high above it in the horizon-grabbing stakes – but both are vastly more expensive. Toyota's claim of 6.3-seconds-to-62mph makes it officially (albeit only slightly) quicker than a 2.0-litre-powered Mazda MX-5. And while it seems zingier and more willing by a larger margin than the numbers suggest, the overall performance is unarguably in that ballpark.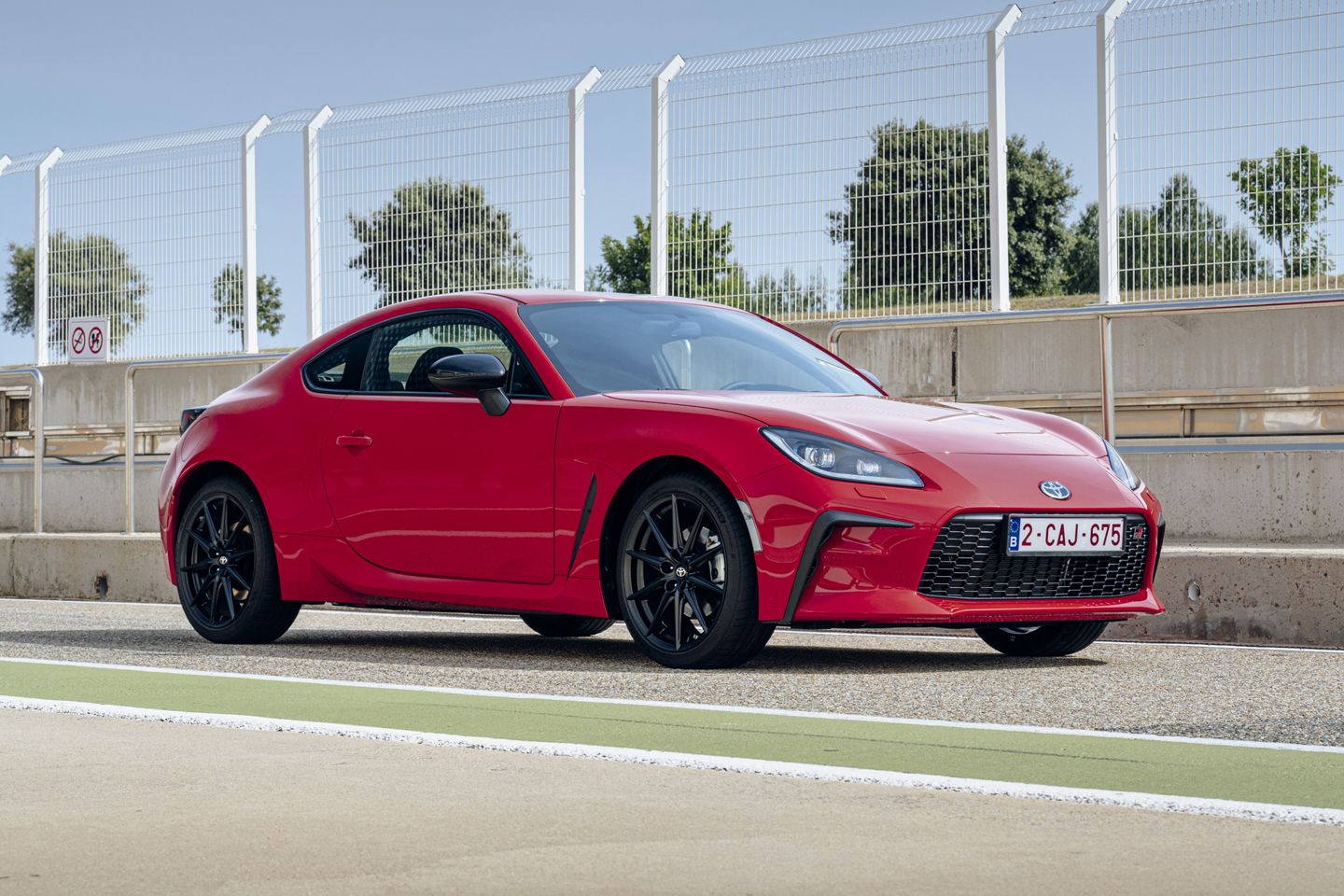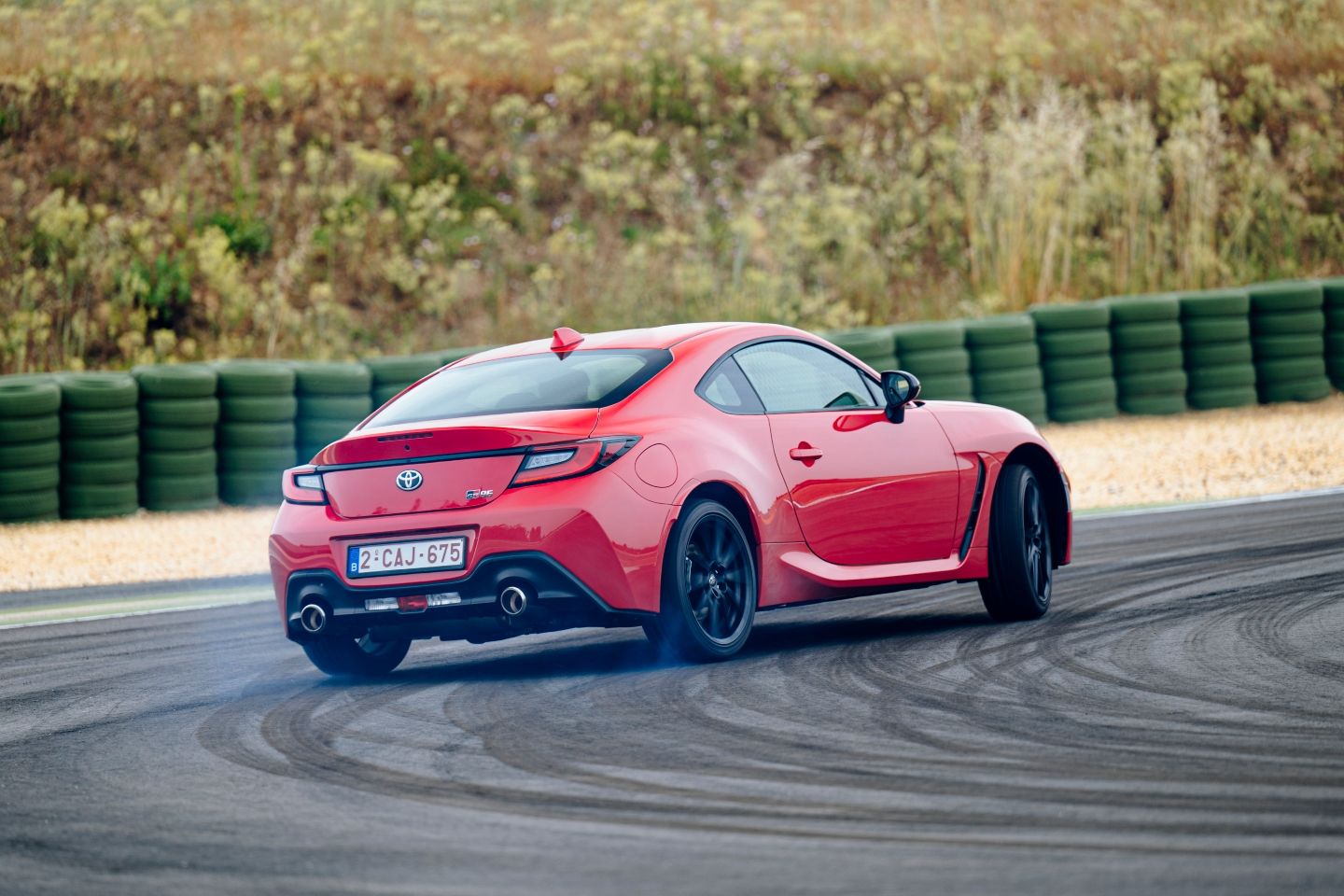 Where the GR86 leaves its nearest competitor far behind is in the handling stakes. Very recent experience of the current MX-5 found the car in rude health, but the joy of driving it is mostly nestled in its imperturbable, knowingly carefree attitude at moderate speeds. The new GR can do this, too – on smooth Spanish roads it floats along with note-perfect elan – but it has an entire extra dimension of ability that honestly lands it among the very best drivers' cars currently available. 
The fundamental components of its superlative performance were already present in the GT86. The supreme balance, the obvious benefits of comparative low weight, a brazen willingness to pivot – even the unassuming control surfaces. But Toyota hadn't successfully harnessed them in a way that seemed rewarding across the board; the car was nice to drive either normally or sideways. Partly as a result of Toyota's tyre choice – and the development work that resulted from that starting point – the GT wouldn't adequately push back or hunker down in when you merely wanted to go very swiftly. The GR fixes that, and then some. 
There is no facet that doesn't seem enhanced to the point of near perfection. Perhaps in the UK the decision to make the car slightly firmer riding will earn it a demerit on very choppy B roads, but it didn't count against it in Spain, and the extensive work done to underpin the platform has delivered prodigious results. Not only are there precious few rivals (at any money) that do a better job of conveying the adhesive limit of its contact patches, the number that feel so obviously on your side in terms of controllability and forgiveness is even smaller. 'Stress-free' is a phrase better applied to the way the GR86 corners than how it accelerates; there is no apprehension to the business of going quickly at all – the clarity of feedback is simply too good and the cohesiveness of the response too obvious for it to unnerve.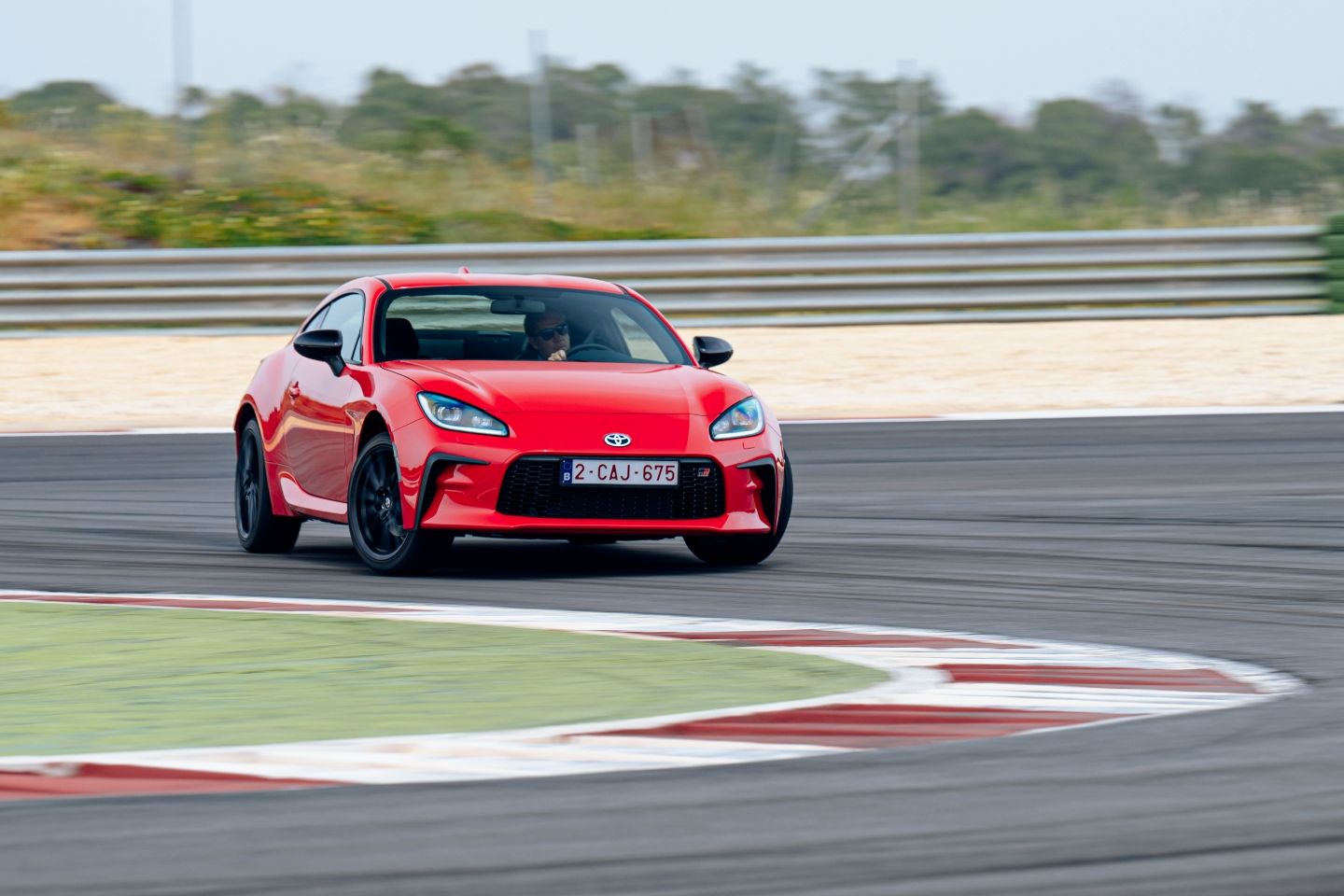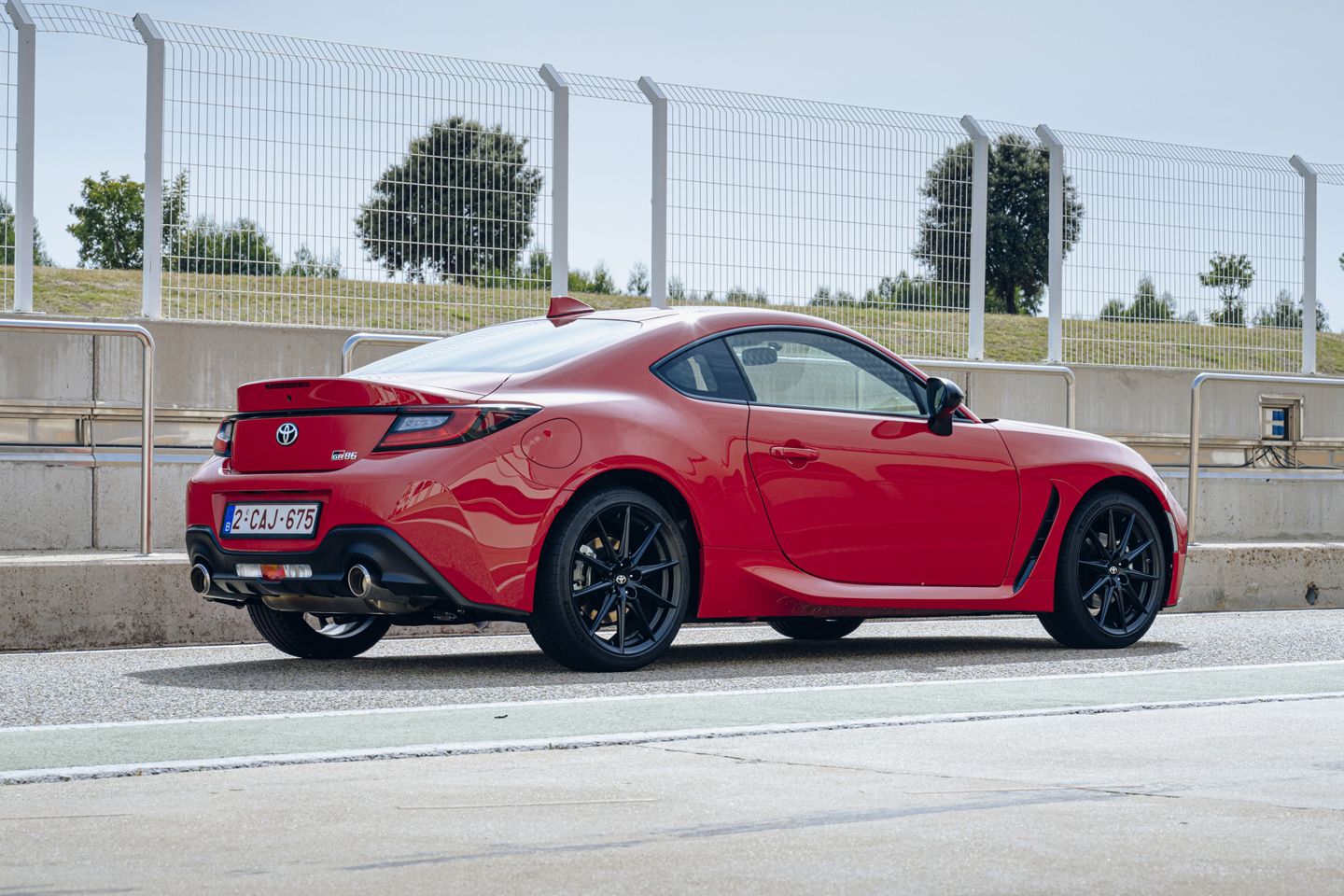 What it does instead is ensorcel you, then endlessly flatter whatever it is you might be doing. Want to link apexes in uber smooth fashion? The new column-mounted electric power steering system, acutely well-judged body control and infinitely superior front end will enable that. Want to loon about at 90-degrees to the kerb? The GR will still do this, too. Only now, on Michelin Pilot Sport 4 tyres and with more power, the breakaway seems more progressive, and the stability control systems which marshal it infinitely more sophisticated. Toyota has labelled its more liberal mode as 'Track' – and it is certainly applicable in that setting – although really it should be called 'Inconsequential Fun' because that's what results from pushing it. 
Matt delved into the circuit experience more deeply, so return there for a more detailed report. Nevertheless it will be sufficient for most to know that (should you find somewhere that will indulge the ability) the car will powerslide everywhere all day long. Perhaps with a bit more speed required, and certainly with more tyre wear than the Michelin Primacy HP rubber suffered, but still very much with that uncanny, slow-motion knack for seeming at home with an awful lot of opposite lock wound on. And because you're typically going slower than you would be in a more powerful sports car, the GR86 takes a lot less out of you physically. So you'll probably want to stay in it all day, too.
Granted, the GT86 excelled in this particular area – and the rave reviews that did greet its original launch probably lent too heavily on its zero-to-hero handling instincts. But by failing to ultimately square the circle in broader use, Toyota couldn't deliver on the everyman sports car it had originally set out to build. The GR86 is a belated, but wholly triumphant return to that objective. Which, of course, makes the question of its availability one of the deep ironies of modern car buying. Its predecessor, freely available for a decade in what seemed like unlimited numbers, has become a niche curio for a certain sort of rear-drive connoisseur. The follow-up GR86, while still not a quick-hit speed demon, is an exceptionally well-rounded and impressively affordable sports car that will seemingly only ever be available to a remarkably lucky few. Toyota encouraged us to watch this space in terms of additional volume, but even if the UK successfully plunders foreign market allocation in the short term, it will only build the car for two years before retiring it for good. Unwanted, world-beating cult-classic status beckons. Talk about salt in the wound.
SPECIFICATION | 2022 TOYOTA GR86
Engine: 2,387cc, flat four
Transmission: 6-speed manual, rear-wheel drive
Power (hp): 234@7,000rpm
Torque (lb ft): 184@3,700rpm
0-62mph: 6.3 seconds
Top speed: 140mph
Weight: 1,275kg-1,314kg
MPG: 32.1
CO2: 198-200g/km
Price: £29,995 (starting price)