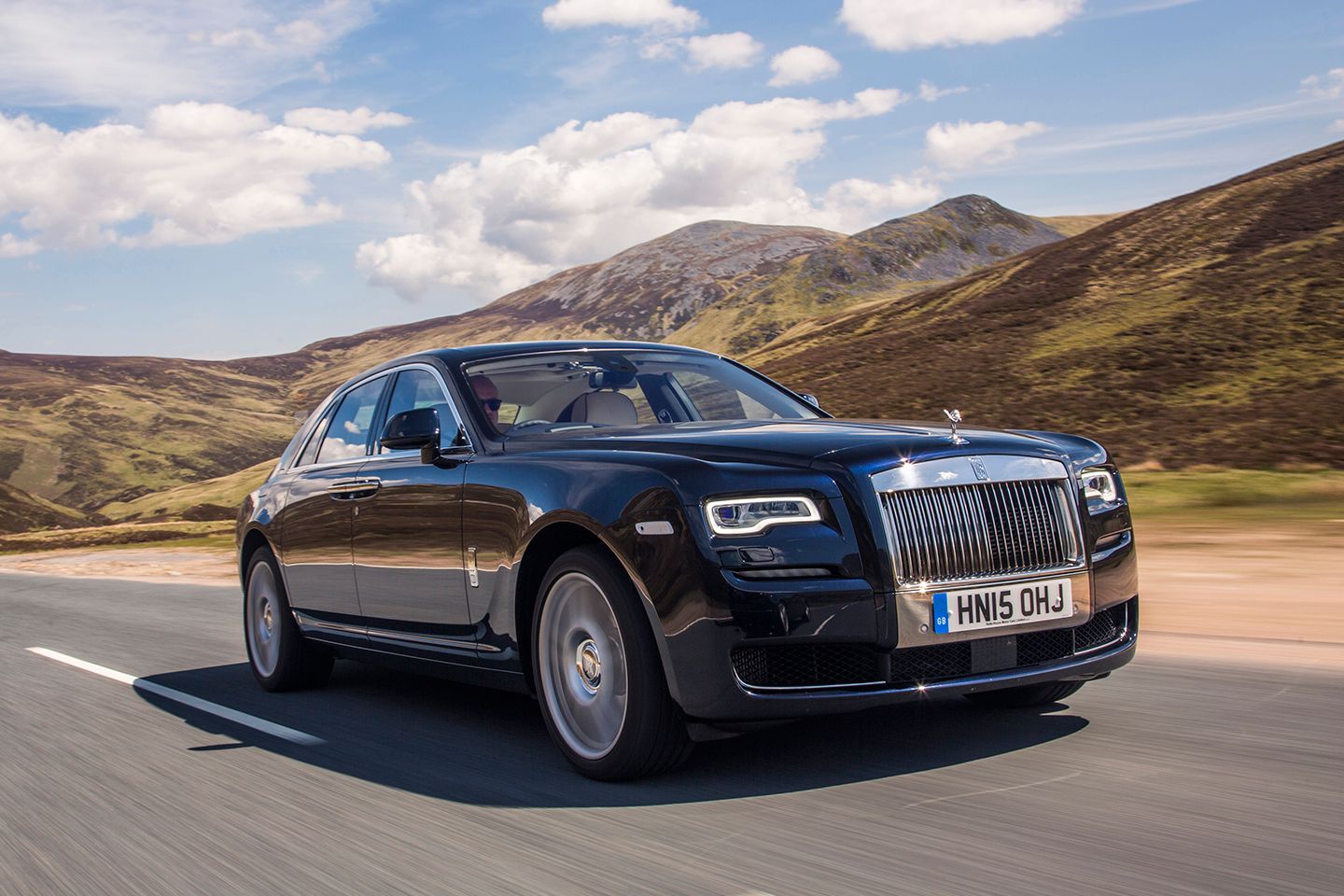 Key considerations
Available for £66,500
6.6-litre V12 petrol twin-turbo, rear-wheel drive
Four-second 0-62 times without spilling the champagne
A genuine event to drive
Not exactly small in stature or bills
Most of the stuff that might go wrong should be available at BMW prices   
Not many car companies can pay homage to a model that they made over a century earlier. Rolls-Royce could, and indeed did in 2009 when they launched their new Ghost at that year's Frankfurt show after they'd previewed it in 200EX concept form at Geneva earlier in the year. 
The name of this new entry-level 'driver's' Rolls harked back to the Silver Ghost of 1907. That car, registered AX 201, was built as a rolling advertisement for the quality of the firm's products, although the Ghost name wasn't officially recognised by Rolls-Royce until 1925: before then it was simply a 40/50hp. After 40 years in private ownership beginning in 1908, the Silver Ghost was re-acquired by R-R in 1948, restored in 1991, and insured in 2005 for $35 million, making it the world's highest value car at that time.
The two Ghosts, old and new, Silver and coloured, had big engines in common. The 1907 car sported a 7.0-litre straight six which increased in 1910 to 7.4 litres. Despite its apparent size the Silver Ghost actually weighed under 1.4 tonnes. The 2009 Ghost was more than a tonne heavier. It was down on capacity too at a mere 6.6 litres, but it had twice the number of cylinders as the old car and, thanks to twin turbochargers, rather more power at 563hp versus 48hp. Even so, the Silver Ghost made good use of its resources, hitting a surreal (for the time) 63mph, presumably with the passengers' top hats cemented firmly into place. There was no such millinery retention requirement in the 2009 Ghost. Even at its heavily limited 155mph top speed it was almost as serene as the 1907 car would have been in an English meadow with its engine turned off. 
Unlike the 2020-on gen-two Ghost, the gen-one Ghost had a monocoque chassis whose closest relative was that of the BMW 7 Series (F01), not so surprising really given BMW's takeover of the iconic British brand in 1998. The engine too was taken from the BMW shelves, a stroked version of the 6-litre unit in the 760Li. If your worldly chattels included a Riva speedboat, you would almost certainly enjoy and appreciate the neo-classical 'yacht line' styling design of the Ghost. Enough did for it to become the best-selling Rolls in the company's long history, despite the fact that the list of payable options was long by R-R standards.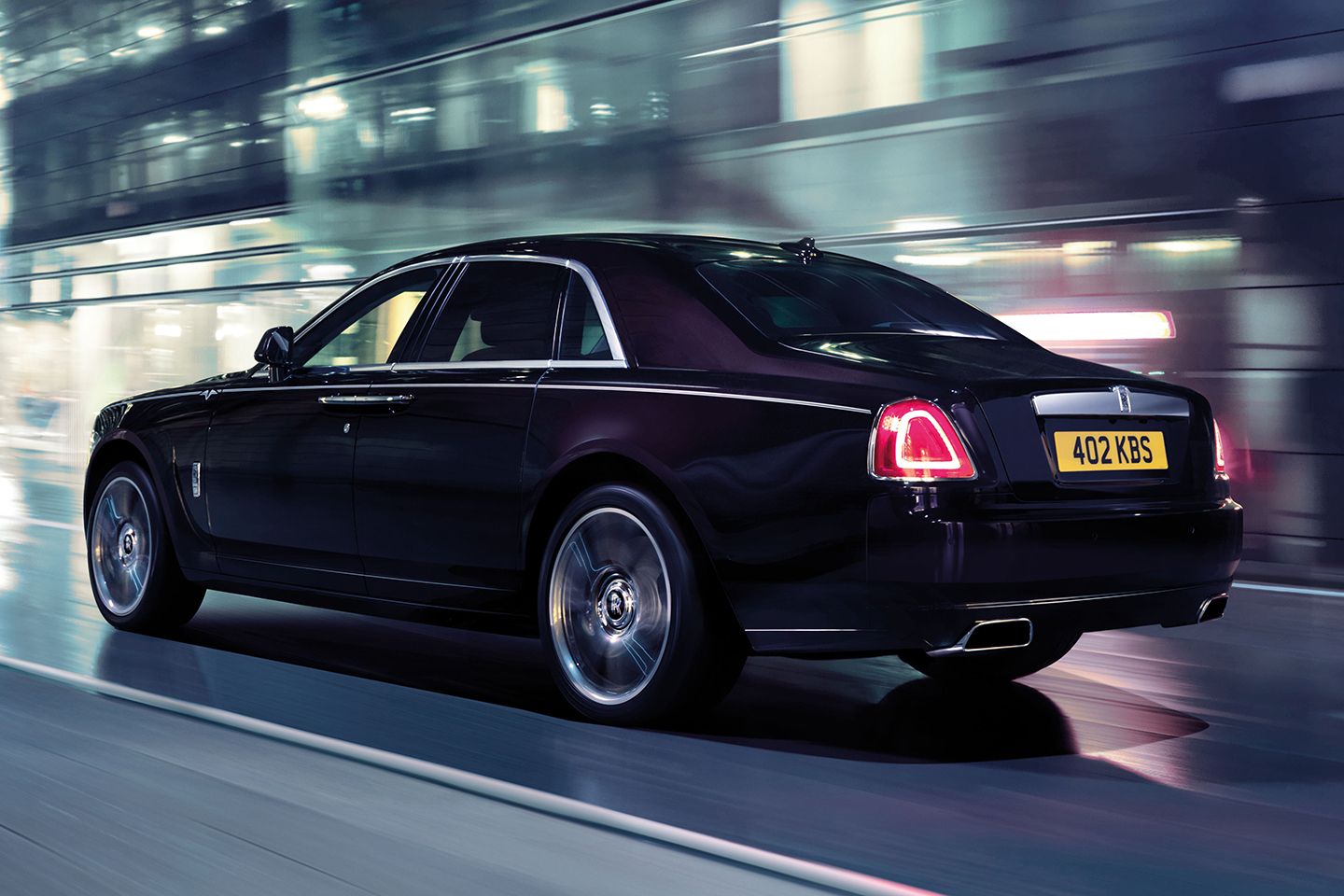 An Extended Wheelbase Ghost was released in 2011, followed in 2013 by a V-Specification Ghost, available to order in both standard or Extended Wheelbase formats. This came with a 40hp hike to 603hp, part-polished 21inch alloy wheels, 'V' motifs engraved on the sill plates and rear armrests, and an exclusive dash clock. 
At the 2014 Geneva show a mid-life 'Series II' Ghost refresh appeared. This featured a front-end restyle (headlights, running lights, bumpers and chromed inserts on larger air intakes), redesigned front seats with extendable thigh supports, a new rear seat design (see Interior section), watch-inspired instrumentation, new suspension and steering components, a slight tweak to the side styling lines, or 'waft lines' as R-R endearingly called them, and tapered 'wake channels' on the bonnet designed to evoke vapour trails coming off the Spirit of Ecstasy's wings. 
Satellite Aided Transmission tech was added to Ghosts at this time, having made its debut on the Wraith a year earlier. This used GPS data to anticipate gearshift behaviours so that when negotiating a twisty section of road, for example, the box would know to hold onto gears rather than change up.  
Reflecting the curious fact that Rolls-Royce customers had become the youngest on average across the whole BMW group, a 'youth oriented' Black Badge edition of the Series II was launched with black exterior trim pieces (including the Spirit of Ecstasy), firmer air springs, recalibrated gearbox and brake settings, new wheels and exhausts, and V-Spec levels of power and torque.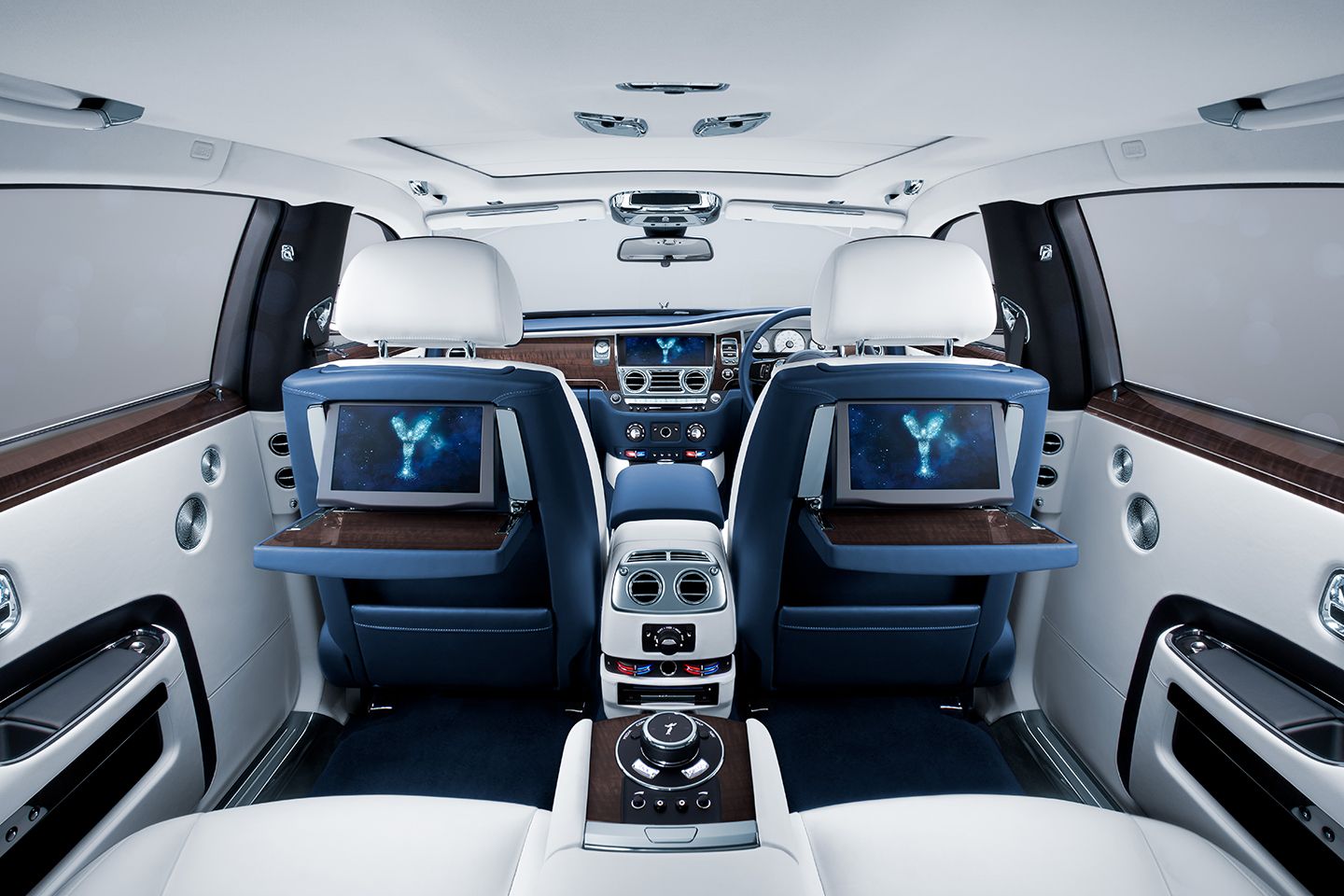 In September 2020 the current second-generation Ghost made its debut. This embodied big changes: a 6.75 litre engine, an aluminium Phantom/Cullinan style spaceframe, all-wheel drive, rear-wheel steering, an illuminated grille, a cleaner 'Post Opulence' look on the outside and quite a few Phantom/Cullinan type features on the inside like digital instruments with chrome surrounds. 
That gen-two stuff is all by way of bonus information as we're concentrating here on the gen-one 2010-20 Ghost. Technically this went on sale in Europe in the autumn of 2009, but you won't find many '09 cars about. In fact we couldn't find any for sale in the UK at the time of writing.
The average mileage for an early 2010 Ghost is around 50,000, which equates to around 4,000 miles a year. Not all cars have been so lightly used, however, and as you'd expect high miles equal (relatively) low prices. The cheapest Ghost we found was a 123,000-mile specimen in wedding white, or English White as R-R prefers to call it, at just under £66,500. Something with the same number of years under its belt but with a more 'normal' mileage of 55-60,000 will typically start at £75,000, so you can perhaps see why there have been stories of clocking (i.e. resetting the odometer) to bump up the resale value.
Still a lot of money of course, but look at what you're getting for under a third of what it would have cost new. Exquisite quality, velvety refinement, iron-fist performance and a cabin that will wow just about anybody – apart from maybe those who have owned big BMWs. We'll get into that a bit later, but in the meantime here are some numbers.   
SPECIFICATION | ROLLS-ROYCE GHOST (2010-20)
Engine: 6,592cc V12 48v twin turbocharged
Transmission: 8-speed automatic, rear-wheel drive
Power (hp): [email protected],250rpm
Torque (lb ft): [email protected],500rpm
0-62mph (secs): 4.9
Top speed (mph): 155
Weight (kg): 2,435
MPG (official combined): 20.8
CO2 (g/km): 317
Wheels (in): 8.5 x 19
Tyres: 255/50
On sale: 2010 – 2020
Price new: £192,500 (2020 base car)
Price now: from £67,000
Note for reference: car weight and power data is hard to pin down with absolute certainty. For consistency, we use the same source for all our guides. We hope the data we use is right more often than it's wrong. Our advice is to treat it as relative rather than definitive.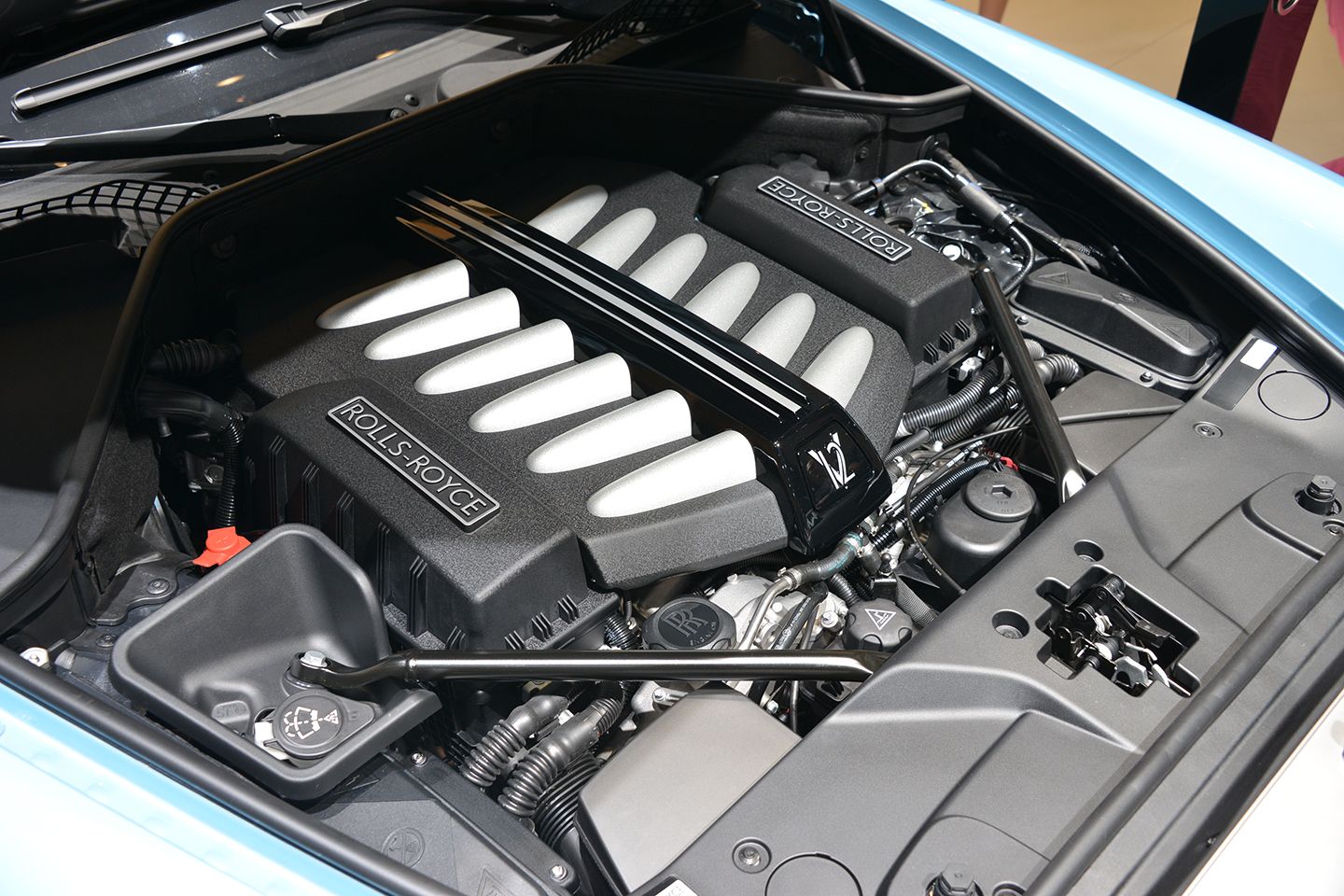 ENGINE & GEARBOX
The Ghost's engine was majestically unstressed. Its response to any attempts by you to get the Power Reserve meter reading down to zero would be the dismissive delivery of lag-free, steam-catapult acceleration at a suitably Edwardian engine speed of 1,500rpm. Timing exercises showed the Ghost to be as quick over the 0-60mph as an Aston Rapide and as quick to 100mph as an Audi R8. The only tiny fly in the Ghost's otherwise unctuous drivetrain ointment was the occasional over-keenness of the ZF gearbox to weigh in with unnecessary downshifts. 
The engine was direct injection, not a mix of direct and indirect. As we always say in these guides, that could lead to coking-up over time, and sure enough there have been examples of lumpy idling caused by degradation of the valve seats. Cold start problems were usually traceable to a blocked fuel filter, low fuel pressure, a bad injector relay or something dying in the fuel pump department. Fixing injector trouble could generate a substantial five-figure bill once all the spark plugs and coils have been replaced. Coils and plugs can go bad on their own of course, causing power loss, rough idling and misfiring. Failing fuel pressure control valves were another known issue. The main indicators for this were an illuminated Check Engine Light, poor fuel consumption and/or dark smoke coming from the exhaust indicating a too-rich mixture.
Coolant leaks are not unknown. Monitoring the oil level was important on the Ghost too because oil could escape from the turbo feed pipes or from the main seal between the engine and transmission and oil level sensors might not always be telling you the full (or any) story. On any motor this big, engine mounts will come under scrutiny. Any unusual impact-related noises signs or signs of increased vibration (or any vibration at all really, this is a V12 remember) suggest that it's time for a check at least. 
The Ghost's standard four-year unlimited mileage warranty included the cost of servicing. Outside that, expect to pay around £600/£700 for alternate year servicing at an independent specialist, rising to £900 for the 50k and 100k visits. Commonly replaced items like oil and pollen filters are not really any more expensive than they are for commoners' cars. Pre-owned cars bought under Rolls-Royce's Provenance scheme received up to 2 years of additional servicing, warranty and roadside assistance. You also got access to Whispers, an app offering unique experiences, connections and a concierge.
At current (June '22) fuel prices of £1.82 per litre the 18-gallon tank would cost over £150 to brim from empty. The official average fuel consumption figure was just shy of 21mpg, but something in the high teens was a more realistic return so you'd struggle to cover more than 350 miles between fills, not a spectacular range for such a comfortable long-distance cruiser.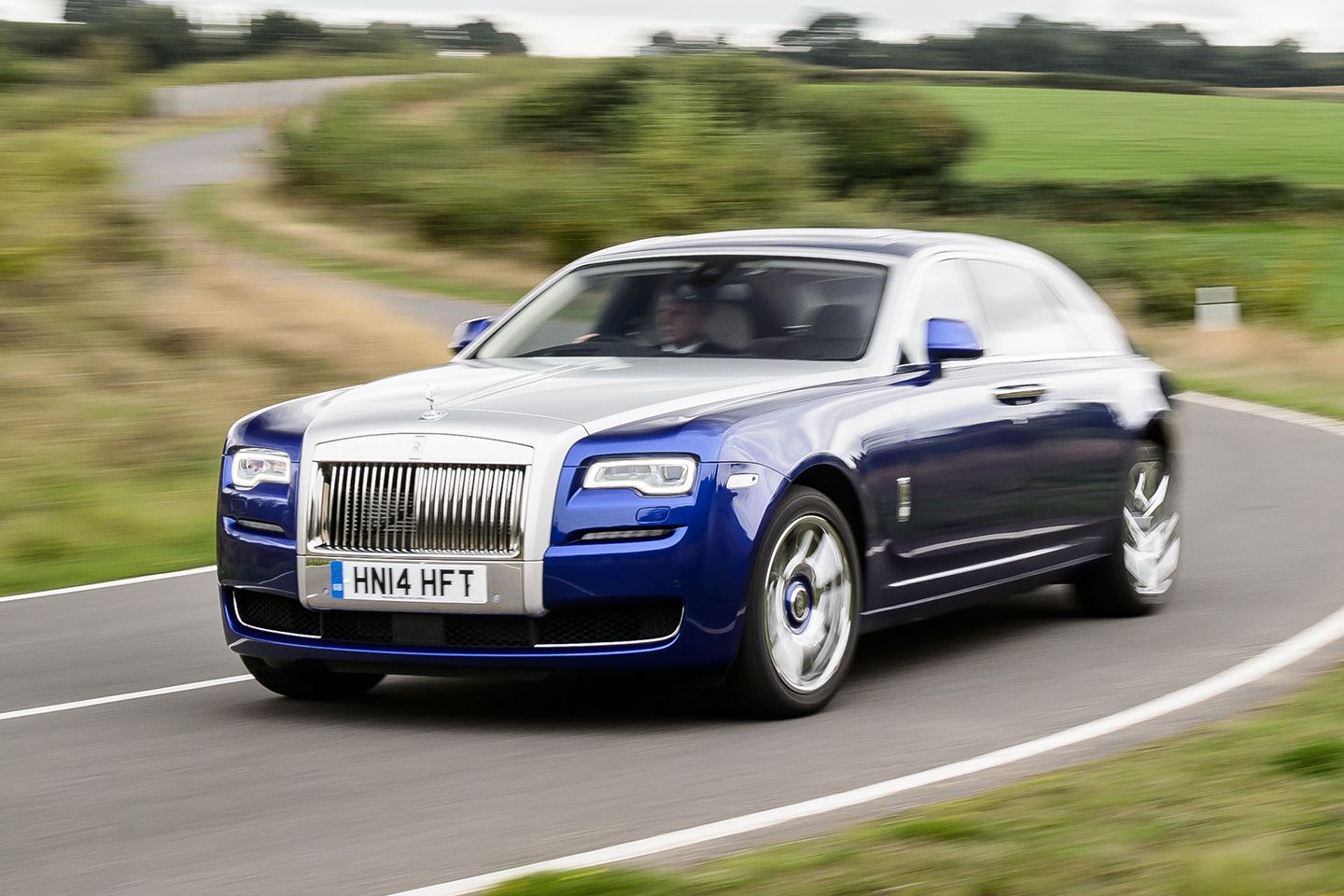 CHASSIS
Suspension was traditional double-wishbone front, multi-link rear, with active anti-roll bars and electronically controlled air springing that was sophisticated enough to be able to detect (and compensate for) a back-seat passenger shuffling from one side of the car to the other. 
Although the Ghost generally had a grin-inducing ability to nullify road imperfections the low-speed ride on bumpy British roads was less than perfect. You could say that statement applies to the low-speed ride of any car, but expectations are always going to be freakishly high when you're riding behind a Spirity of Ecstasy. Anything short of mega-plush has the potential to feel like a disappointment. Stiff-walled runflat tyres didn't help. It's interesting to note that the suspension was significantly revised on the gen-two, a new 'Planar' system combining predictive cameras and extra wishbone dampers to filtrate the road surface into a state of total syrupyness.  
If the car seemed to be sitting at an odd angle, or the ride felt more like a skateboard than a luxury car, or the ride height adjustment button wasn't working, or there was a 'level control malfunction' warning on the dash, any or all of those events meant you had problems with the air suspension. Basically this consisted of four air struts and a compressor. If a Ghost had been sitting for a while, some pressure would deliberately be let out of the system to protect it, but more persistent attitude problems indicated a fault with an airbag or the compressor. Faulty height control modules were also a thing.
Replacing the brakes wasn't cheap at around £1,000 a corner for discs and pads, but you really did want proper brakes for something this heavy and the OE items were very good. Some Ghost faults might be fixable by software refreshes if the previous owner hasn't bothered to keep up with them. For 'real' problems, remanufactured replacement parts would save you quite a bit of money on some of the more expensive factory items. In an ideal world though you will have a good warranty in place that saves you worrying about this sort of thing. 
There was a lot of assistance through the slender steering wheel, maybe too much given the slightly clumsy transition from straight ahead to turn. Series II buyers had the option of a Dynamic Driving Package to speed up the rack and stiffen the ride, but it seemed counter-intuitive in a Ghost. As has become the thing on R-Rs, the Ghost's wheel centres remained stationary on the move so that other road users would always know exactly what was upstaging them. 20in alloys added more than £4,000 to the base car's sticker price.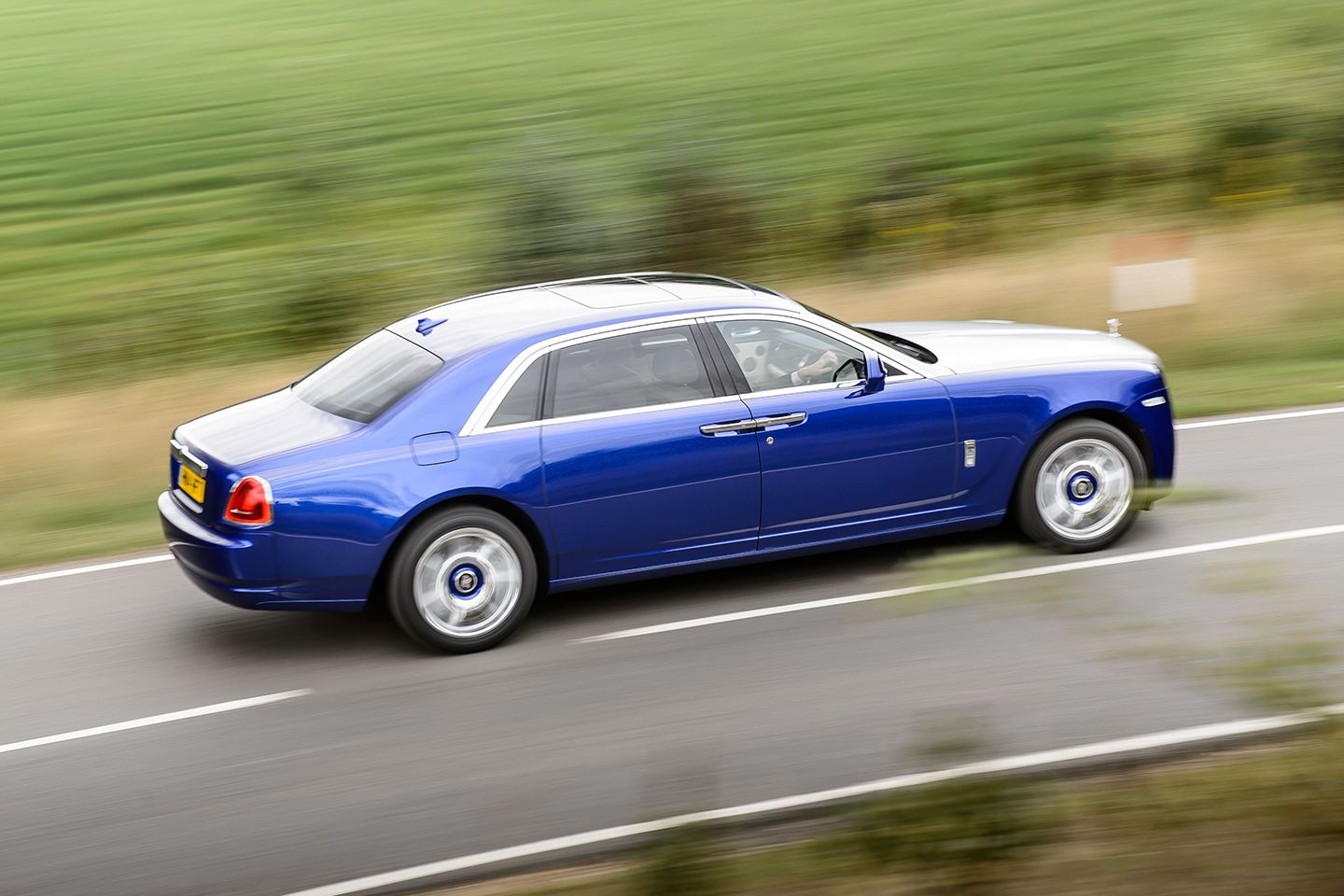 BODYWORK
You didn't need to be a genius to work out why Rolls-Royce preferred to call the rear-hinged doors that were such a distinguishing feature of the Ghost 'coach' doors rather than 'suicide' doors. These were closeable at the touch of a button, but the motors for these are known to fail. 
According to some, the enormous door mirrors should have been disposed of at the swing of a sledgehammer as they really did cut down your three-quarter front view of the road. The fall lines of the Ghost's bodywork meant it wasn't the easiest car to place, so features like Night Vision which came with the Driver Assistance 3 pack (along with other gadgets like a head-up display and radar cruise) were well worth having – if you didn't mind paying over £9k for the DA3 pack anyway. 
The Spirit of Ecstasy sculpture atop the bonnet (whose silver satin finish was a near-£5,000 extra) could either be left to its own devices, disappearing on door locking and popping up on opening, or it could be manually deployed. In the Phantom, that function was controlled by a glovebox button, which somehow seemed more appropriate than the Ghost's iDrive menu item. The SoE was supposed to drop if anyone made a grab for it, but sometimes this function conked out or the motor failed completely. 
Badly fitted rear screens have allowed water to get into some cars, causing condensation and/or contaminated seat glue resulting in bagginess to the leather. Water suddenly arriving in the passenger side footwell could be down to blocked drains in the panorama sunroof, if your car had that £5,000+ option. The button release for the umbrellas in the doors didn't always work as intended. To unleash your brolly you sometimes had to push it in quite hard with one hand while pressing the release button. Suds squirted all over the bonnet and wings by the windscreen washers? They all do that sir.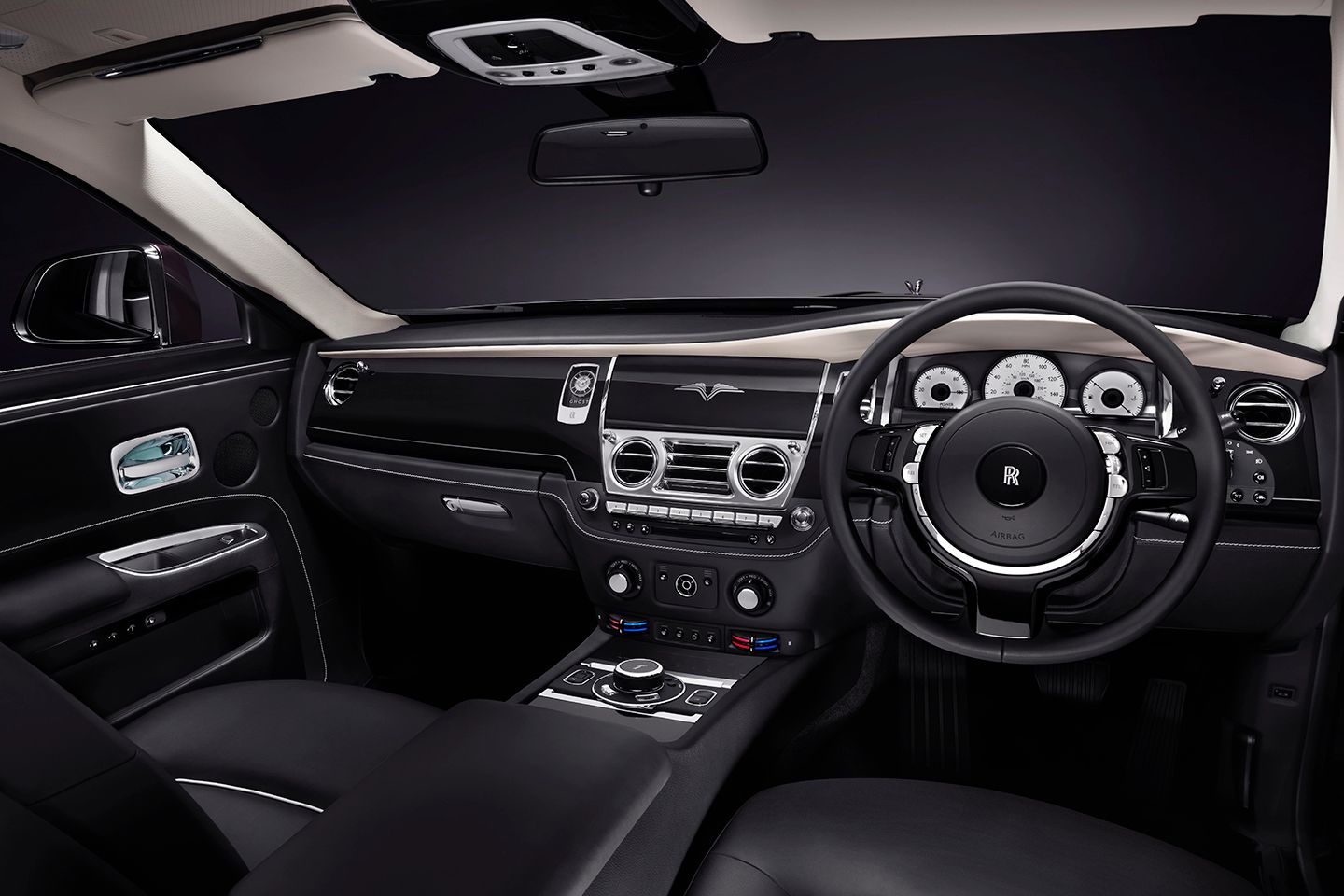 INTERIOR
Lambswool carpets were a near-£1,000 option, a sign of the times and of the entry-level status of the basic Ghost, but even if for some odd reason you didn't tick that box as the first owner it was still pretty difficult not to admire the wonderful depth and richness of the wood, leather, chrome and glass on display and the level of detail in the cabin that seemed to improve the closer you got to it. 
It seems to be lasting quality too: assuming reasonable care has been taken, which it generally seems to be judging by the used cars we've been looking at, Ghosts should still be exuding an air of effortless superiority even when they're well into their second decade. It's not perfect though. Some owners have reported creaking noises from around the A-pillars. 
The sat nav screen was pure BMW but there were few complaints about its functionality or about the excellence of the iDrive system. Its familiarity saved you all the bother of re-learning a small-volume manufacturer's attempts to improve on something created at vast expense by a huge company that knew what it was doing. If the sight of the iDrive screen really bugged you, you could simply whir the cover down over it. Everything else on the control side that could be associated with Munich, either visually or by touch, was 'Rolls-Royced' to create an authentic Goodwood-made feel. 
The Ghost fell more clearly into the 'owner driver' category than Rollers like the Phantom, but that wasn't to say that rear seat passengers weren't fabulously well looked after. New buyers could go for individual rear seats (curved more into each other on Series II cars to facilitate face-to-face interactivities)  or a 'lounge' (bench) seat. For ultimate comfort, as noted earlier, an Extended Wheelbase version was available, though you really would have to have extraordinarilty long legs to feel cramped in a normal Ghost. In gen-two iteration the EWB Ghost was practically the same length as the Phantom. 
Black Badge versions ramped up back-cabin luxury with natural grain leather, starlight headlining, rear theatre, coolbox, phone, TV tuner and ventilated massaging seats all part of the standard spec, but you still had to pay extra to get those back seats reclining. BB cars had 6-disc DVD changers. UK non-BB Ghosts came with a single disc DVD player. The head-up display has been known to disappear and then reappear. Going back to those lambswool carpets, we found a complaint about dye ruining an owner's light-coloured Fendi sneakers and Valentino sandals.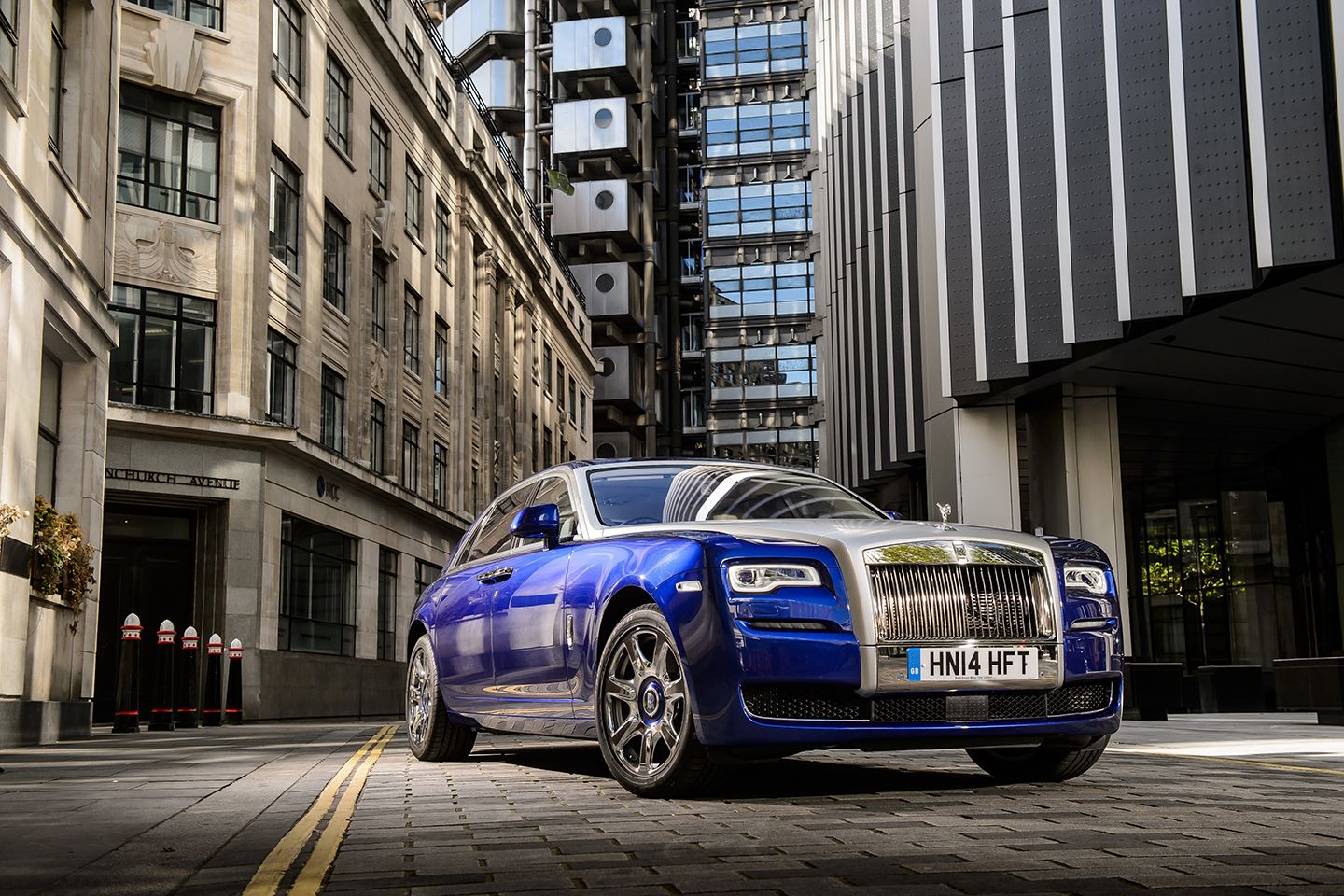 PH VERDICT
Every Ghost took the best part of a month to build, paint and polish. The wood used in any one car always came from the same tree so that it would all age at the same speed. All eight of the leather hides were hand-stitched. These were the kind of marque must-haves that made Rolls-Royces so desirable in the past. Even though we all know that robots could do a better job of building a car nowadays there's still something special about the human investment that went into a Ghost. You knew you were in a special place, and the driving experience – front or back – magnified that sensation.
Some will object to what they will say is an over-abundance of BMW items in the Ghost. It was always going to happen because the new German owners of Rolls-Royce had to walk the line between manufacturing costs and profitability with their new brand bauble. Did it matter anyway, given the new young demographic of R-R owners? Most Ghost owners probably took the view that 20 percent of shared componentry between their cars and the BMW 7 Series was a good thing rather than a bad one. 
And although quite a few of the features that you'd traditionally expect to be thrown in by Rolls-Royce turned out to be options, the nature of the beast meant that there was no such thing as a 'poverty-spec' Ghost. New buyers by and large chose all the toys and luxuries that any used buyer would have picked if they had been fortunate enough to be in their place, the main difference being that the second owners don't have to pay extra for them. 
The lowest-priced Ghost on PH Classifieds as we went to press was this white 47,000-mile car at £82,450. For £500 more you could go for this 49k miler in tungsten and silver or you could put a wrap on the white one. Talking of which, if you want to make a splash then this wrapped candy red 2019 car with 19,000 miles might have your name written all over it. You could literally do that, come to think of it, just to complete the impact, or you could peel off the wrap to uncover the ice blue paint underneath. A tenner under £190k. 
Also at the expensive end of the price scale, late gen-one Ghosts with under 5,000 miles on the clock top out out at £200k-£205k, from where there's a big jump to around £280k for an early gen-two. As a happy medium what about this black V-Spec car from 2014 with 33,000 miles at £99,950? Or, back at dungeon level, this mauve (looks better than it sounds) 36,000-miler at under £84,000.