Even by the standards of limited-edition Renn Sport Porsches, this Cayman GT4 RS feels more significant than most. Just 10 years ago, a 500hp RS model was the 997 GT3 RS 4.0; it rivalled cars like the BMW M3 GTS and AMG C63 Black Series, all three celebrating internal combustion with spectacular atmospheric engines. Now the £110,000 GT4 RS is almost without rival (beyond Porsche itself) as natural aspiration has become harder to justify. Back then the notion of a Cayman with that sort of power would have seemed almost as far-fetched as an electric one – now we've had confirmation a 718 EV is just round the corner. Accordingly, the GT4 RS feels a 'now or never' prospect. If the 4.0 RS was a fond farewell to the Mezger flat six, this one seems primed to say goodbye, forever, to flat sixes in Caymans. No pressure, then.
Still, it's hard to think of a better box of bits from which to build an era-defining sports car. You probably know the RS spec already because if you're anything like us, you'll have been poring over it intently – but there are certain bits worth repeating. It has the 911 GT3 engine, most obviously; this is no lesser tune, either, the 10hp loss over a 911 accounted for by the increased back pressure of an exhaust that must travel further. A load of other bits are donated from big brother, too, including gear ratios from the old GT3 RS, plus that car's front axle (with helper springs, a wider track and adjustable everything) as well as an optional Weissach Package. That brings more carbon, a titanium cage (if you've also got the Club Sport pack) and unlocks the magnesium wheel option. At its most potent (and expensive), the GT4 RS has lapped the Nurburgring in 7:04, which is a ludicrous time for any car. Leave alone one now almost 10 years old and more often found with a flat four in it.
The GT4 RS is staggering in the metal. Maybe not beautiful, because these RS cars seldom are, but crammed with details you can't help but gawp at. The 30mm lower ride height over a standard 718 and wider tracks make for a perfect road racer stance, that GT3-style fixed wing is wild and those intakes replacing the quarter windows are inspired. You'll keep walking around, each time finding something new and fascinating to look at. Knowing it all functions to such an outrageously high level only makes the RS more enjoyable to study from three feet away.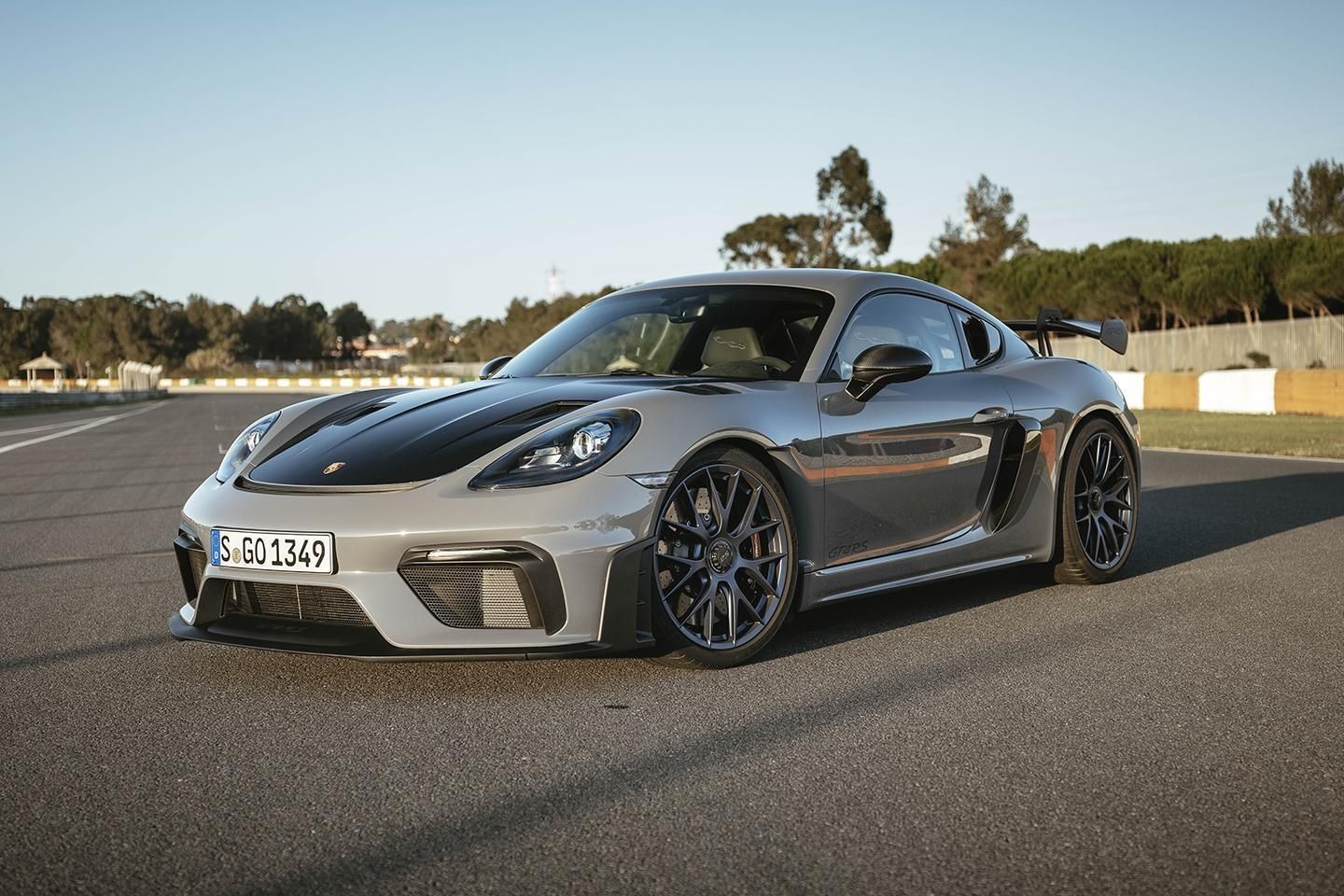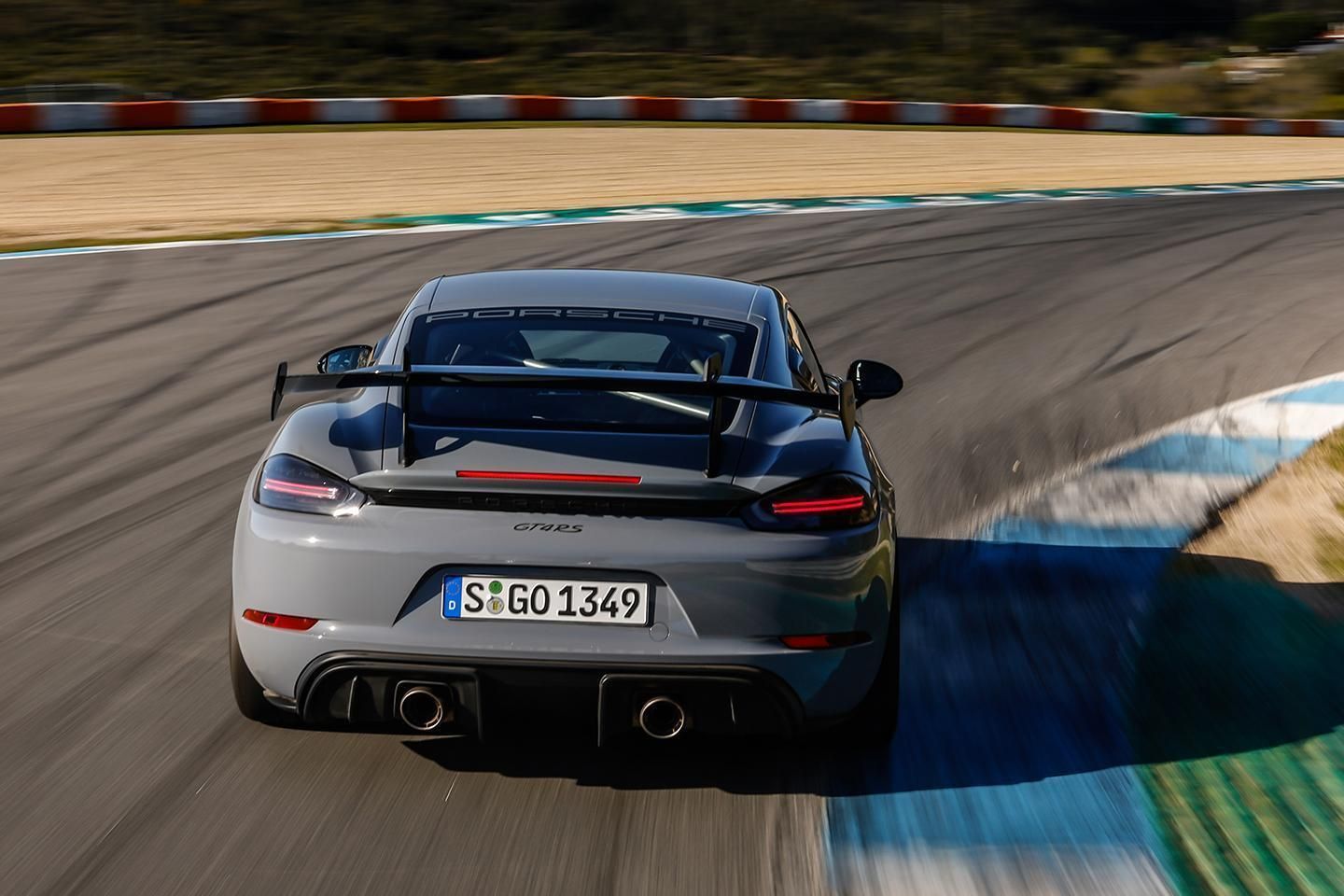 By comparison, the interior is short of surprises – if none the worse for it. Perhaps some will begrudge the blank switches when spending more than £100,000 (or whatever they end up costing), and others might want a bit more glamour in a 196mph sports car, but given how the Cayman interior has always nailed the fundamentals, there's little to criticise from a driving perspective (which ought to be the most important thing). The standard 918 buckets are as perfect here as they are anywhere else, the new Alcantara wheel is a joy and the GT3-donated PDK lever is right at home. If an interior that looks a bit old next to a 992 bothers you, the GT4 RS is probably the wrong car.
As a very first experience of a new car, Estoril remains a fairly intimidating one. And with 10 laps split between two sessions (with one to babble on video), it wouldn't be fair to call it comprehensive, either. However – and this is a pretty big caveat – it takes all of half a lap to establish the GT4 RS as sensationally good. A mid-engined Porsche with a 500hp was never likely to be less than great; the bigger shock would have been if it hadn't come out world-beating. The notable discovery is that the RS might be even better than those lofty expectations predicted.
The engine dominates on track, obviously. Those new intakes have transformed the experience for the 4.0-litre, cranking up the volume and bringing depth to the sound you never knew was missing from a GT3. The individual throttle bodies can be heard snorting behind your head, as can gnashing valvegear and everything you'd want to hear from a 9,000rpm flat six – it's glorious. Andreas Preuninger said that early RS prototypes were too harsh, and lots of effort has gone into ensuring the car remains usable on the road. The result – as the video above hopefully makes clear – is utterly glorious. The engine is feral in its appetite for revs, stunning to listen to at any speed and race car loud. Those perhaps a tad disappointed by the GT4's soundtrack with the other 4.0-litre engine will have no such qualms here.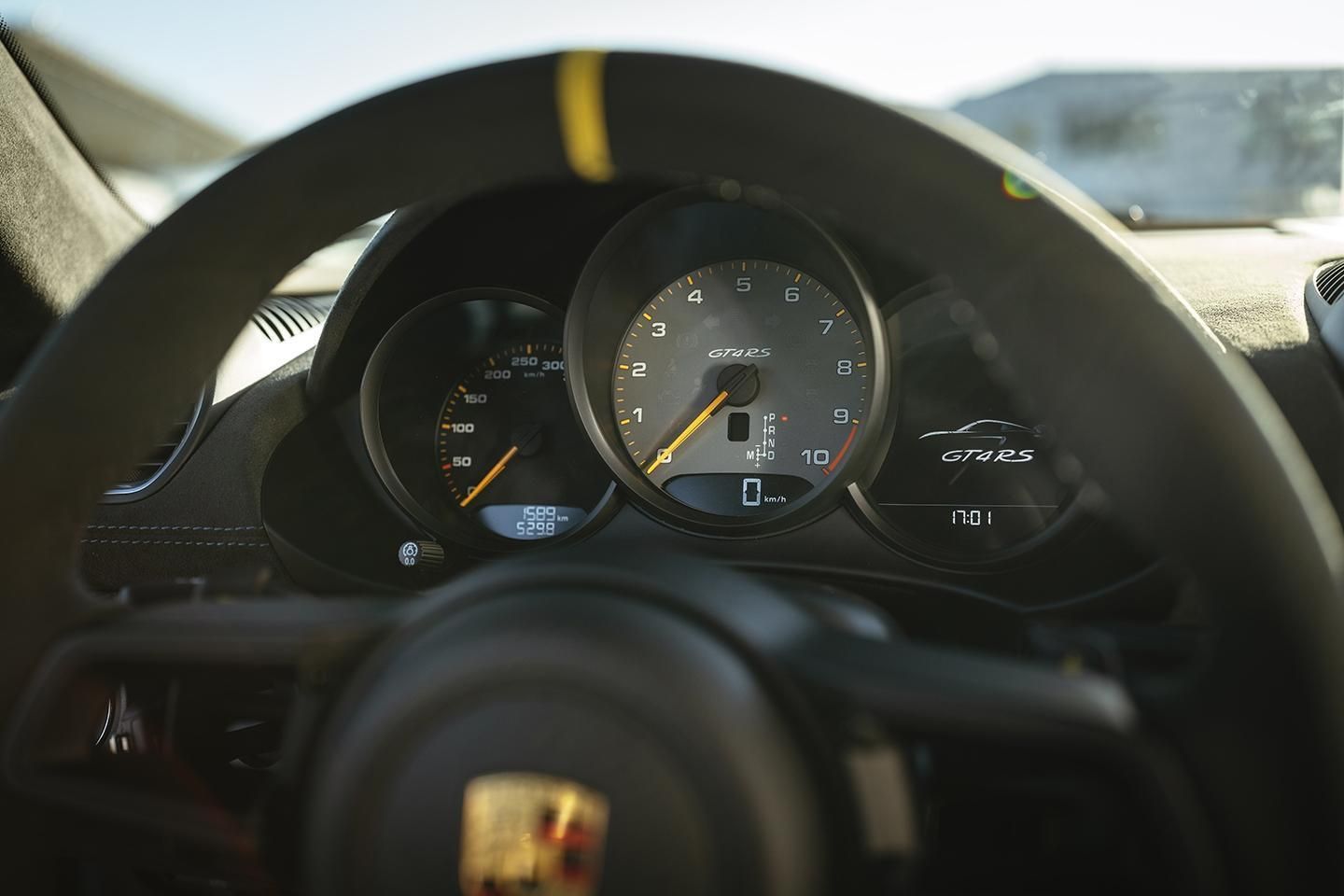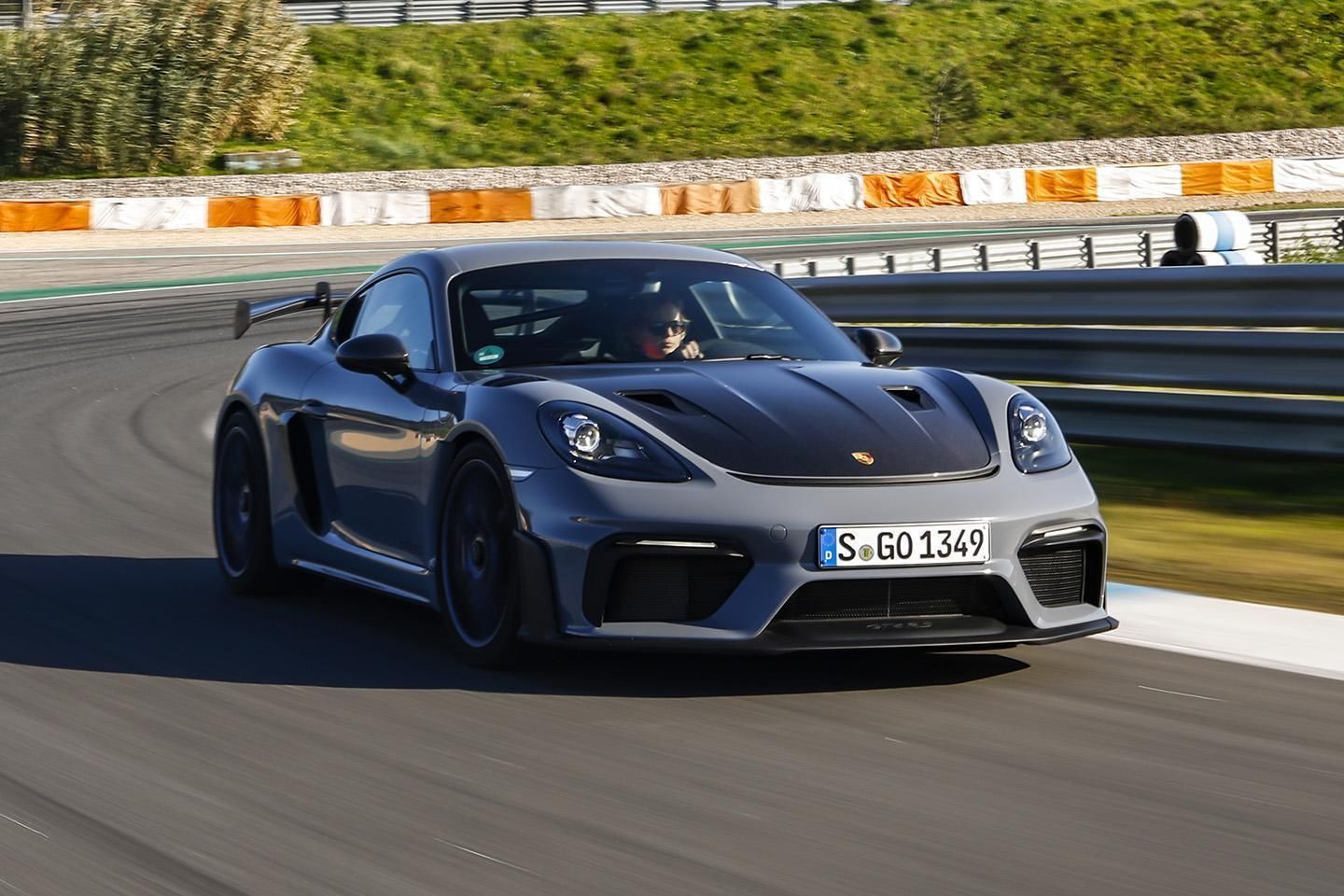 The PDK has wrought almost as much of an improvement on the RS experience as anything else. Finally, it's been conceded that 84mph in the second gear of a sports car isn't conducive to fun; now that ratio runs to 72mph, and the RS reaches its 196mph maximum in top. Seventh gear for this car is shorter than sixth in the GT4. With additional performance as well, here's a Cayman – at last – that's ferociously accelerative all the time, ripping through ratios with alarming urgency and feeling even faster against a regular GT4 than the numbers suggested. On track, it's a boon, because it means more opportunities to experience both 9,000rpm and that sequential-style lever; shorter ratios ought to mean an even more exciting road experience, too.
The chassis is just as epic, and provides the perfect accompaniment to a stellar powertrain. With so much that can be adjusted, owners will be able to tailor a setup that best suits their requirements, but even out of the box, the RS brings together all the best bits of this Cayman generation and Porsche GT products generally. Namely abundant feel and communication, the best electric steering around, ceramic brakes that are beyond reproach, enormous traction and – most importantly – huge fun. It seemingly has all the advantages of a mid-engined layout with none of the drawbacks, even with the performance ramped up so significantly. The test cars ran a regular Michelin Cup 2 tyre (as opposed to the Cup 2R used for the 'ring record), which felt ideally matched; more purchase would be entertaining for going faster still, but it's hard to imagine many taking issue with the grip and slip compromise offered by the standard tyre.
Even without the driving skill or the right track to hand, a few laps with the GT4 RS gives some clues as to how that phenomenal Nurburgring lap time was achieved. A wider front track and the extensive aero work – there are new diffusers and 'aerodynamically optimised underbody panelling' as well as the more attention-grabbing bits – mean huge confidence in higher speed turns. The RS has broadened the bandwidth of the base product without impinging on the inherent appeal. Crucially, this still feels like a Cayman to drive; just the best one. By a mile.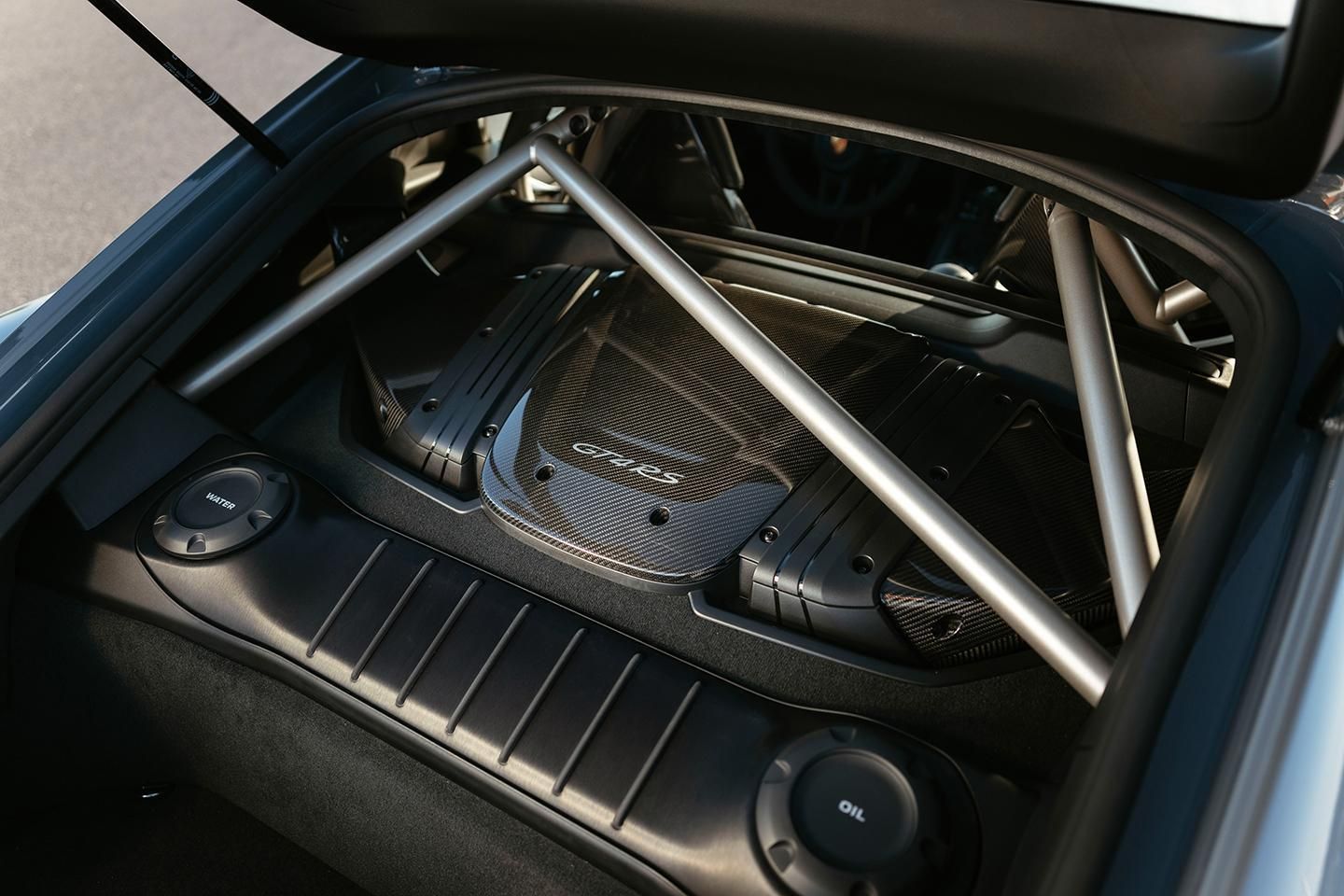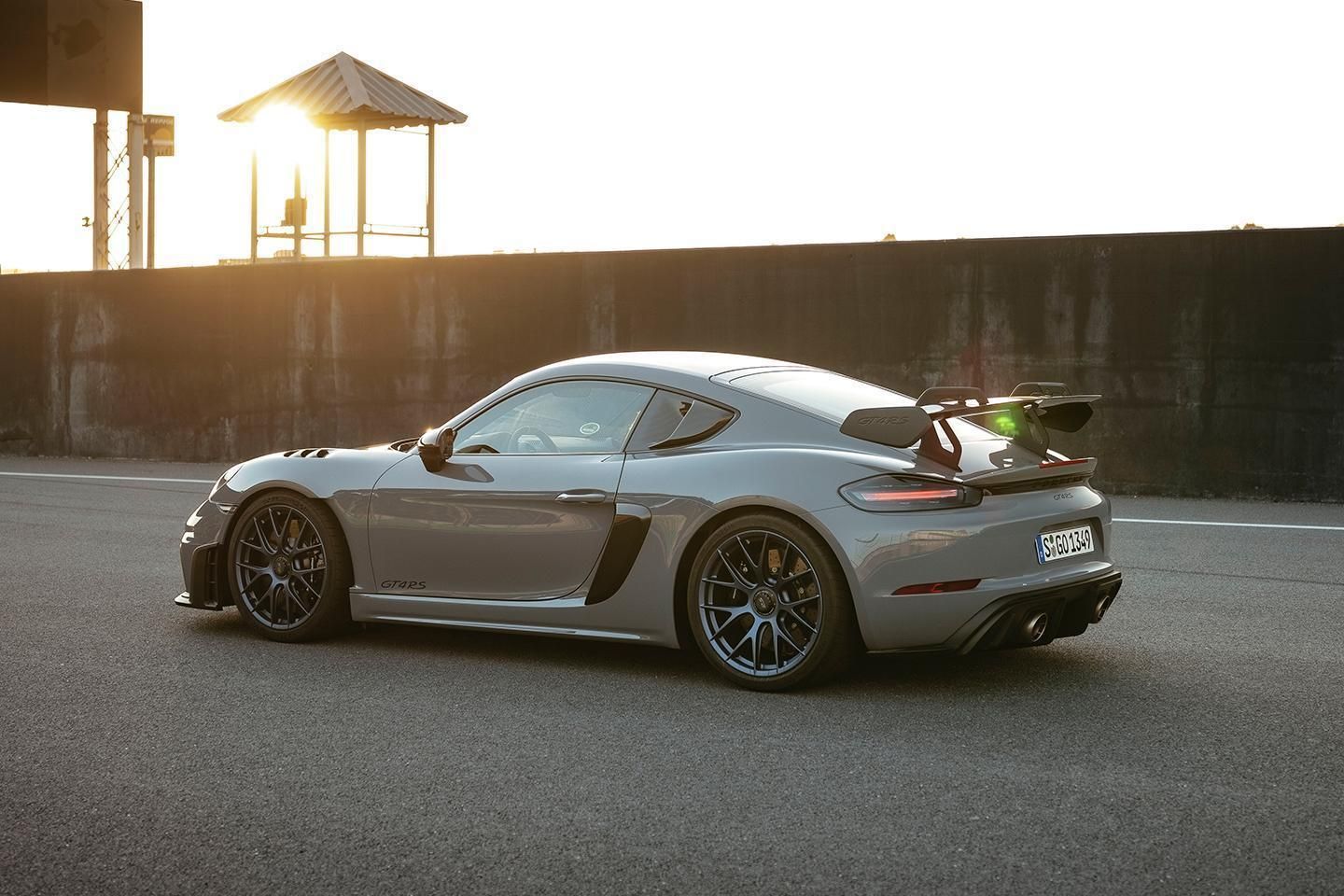 The downside? Well, if you choose to see it as a demerit, a track car experience this thrilling inevitably makes it harder work on the road. Much like the GT3 and GT3 RS, this Cayman is tangibly firmer, louder (much louder) and more demanding than a standard GT4 on the road. The gearing keeps it busier, as does the stiffened suspension and lower ride height. Somehow a bit of suspension travel remains, which seems impossible given where the wheels are in the arches, and the damping is as exceptional as ever, but this isn't a car for the average track day goer. Like all the RS cars, your road driving should be about getting to the next circuit; it'll be a memorable experience, for sure, but it feels most at home away from the public road. Even Porsche can't create a circuit car as awesome as the RS without some compromise.
Which, frankly, is as it should be. The GT4 RS is unapologetically hardcore, and won't please all parties in a way that a GT4 might. It is patently necessary to buy into the idea that the car is a third more expensive, less suited to road driving and probably uglier to most eyes. Only then will you be able to rejoice in the fact that Porsche has unequivocally overdelivered on the RS promise. If anything, it has surpassed optimistic predictions for its greatness; from the way it sounds, to the way it steers, to the way it brakes, it virtually guarantees legendary status. Hopefully a clearer picture of its road suitability will come with a longer UK drive, but those fortunate enough to be getting one are in for an unforgettable experience. As a valedictory salute to combustion-engined Caymans, it is sublime – as well as being an incredible benchmark for any subsequent generation of 718 to live up to. But let's worry about the future tomorrow. Because the present is little short of magnificent.
SPECIFICATION | 2022 PORSCHE 718 CAYMAN GT4 RS
Engine: 3,996cc, flat-six
Transmission: 7-speed dual-clutch auto, rear-wheel drive
Power (hp): 500@8,400rpm
Torque (lb ft): 332@6,750rpm
0-62mph: 3.4secs
Top speed: 196mph
Weight: 1,415kg (DIN)
MPG: 21.4 (WLTP)
CO2: 299g/km (WLTP)
Price: £108,370